Former USA boss Bradley signs as new coach of Egypt
Last updated on .From the section Football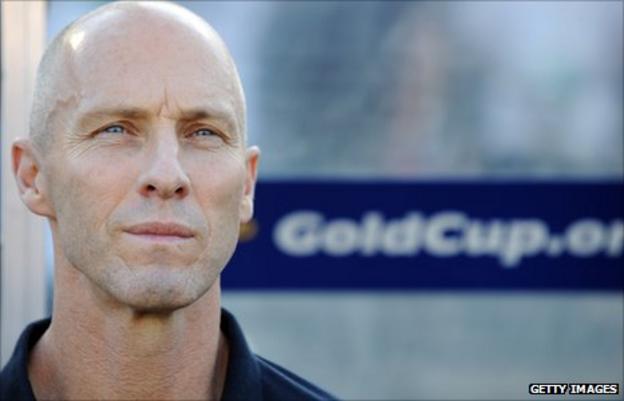 Former USA boss Bob Bradley signed as the new coach of African champions Egypt on Thursday.
His deal runs until 2014, when the World Cup will be played in Brazil, and he will earn around US$40,000 a month.
Bradley had been tipped to sign as the Pharaohs coach and finalised the deal after discussions with the Egypt Football Association in Cairo.
He is set to hold a press conference on Saturday to unveil his plans for the future of the struggling side.
Egypt have won the last three editions of the Africa Cup of Nations, but failed to qualify for the next tournament in Equatorial Guinea and Gabon.
"The Egyptian players are very good," he said on his arrival in Cairo.
"In the US we worked to prepare the team in all ways - technically, tactically, physically, and I think this is important."
There has been an indifferent reaction from fans and media to Bradley being named as Egypt's new coach.
Bradley had been due to arrive in Egypt on Tuesday but was delayed because of problems with his flight reservations.
The Egypt Football Association (EFA) also considered ex-Ghana coach Milovan Rajevac, but decided on Bradley.
Bradley is set to replace Hassan Shehata, who quit after Egypt's poor start to 2012 Nations Cup qualifying.
The Pharaohs can no longer qualify for next year's Nations Cup in Equatorial Guinea and Gabon but will host Niger in their final qualifier in October.
Bradley took over as coach of the USA in 2007 after being taken on as interim coach when the Americans struggled at the 2006 World Cup in Germany.
He enjoyed instant success, winning the 2007 Concacaf Gold Cup on home soil before leading the USA to the final of the 2009 Confederations Cup in South Africa.
He then safely guided the team through the qualifiers for the 2010 World Cup, also in South Africa, but they lost in the second round to Ghana after drawing with England in the group stage.
The USA sacked Bradley after they lost to Panama in the group stages of last month's Concacaf Gold Cup and then lost in the final to Mexico, squandering a 2-0 lead to lose 4-2.