Aberdeen signing Rory Fallon plays down saviour tag
Last updated on .From the section Football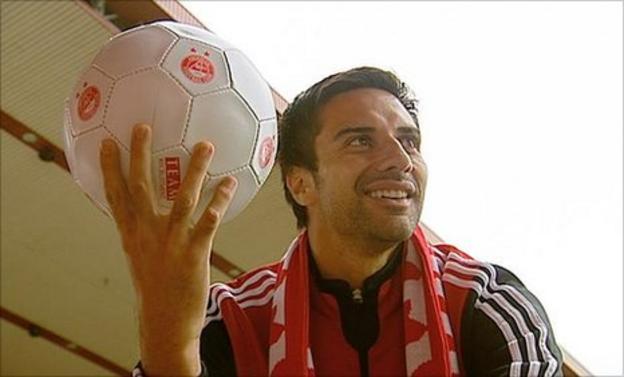 Rory Fallon is playing down pressure on him to become Aberdeen's missing goal hero after the striker signed a two-year contract at Pittodrie.
"For me to come in and everyone looking for me to be the saviour, I am not a quick fix," said the New Zealand cap. "I am part of the puzzle.
"I've always been a kind of player like that. I am not going to be Maradona going past the whole team and scoring.
"My focus is not on being a hero but on giving 100 per cent to the club."
Fallon was released by Plymouth Argyle this summer and spent a month with Yeovil Town after signing a short-term contract with the League One club.
The 29-year-old said that Argyle's financial woes meant he played much of last season through the pain of injury but was now hoping to revive his international prospects with the Confederations Cup looming.
"I had my hernia after the World Cup and never recovered from that," he said.
"I never trained. All I did was play, so it was a tough season for me, but it has made me even more mentally strong than I was before.
"I am just looking forward to starting a campaign injury free.
"I've still got dreams to play in another World Cup, so I want to try to play well for Aberdeen to get back into selection for New Zealand again and play in the big tournaments that people dream of."
Midfielder Kari Arnason joined the Dons after himself leaving the Pilgrims in the summer.
"Arnie was one of my best mates at Plymouth and was a big factor in me coming here," said the striker.
"Hopefully I can pop off a few goals, but I also hope to create as many goals as I can as well."
Dons manager Craig Brown thanked the Aberdeen board for extending his playing budget to sign Fallon.
"We've had great co-operation from Duncan Fraser and the rest of the board," he said.
"We did have a limit and we had got to the limit, but we thought that the extra provision of Rory Fallon would be beneficial.
"He has a good scoring record, he is a good footballer, he is a national hero in New Zealand and hopefully he will be a local hero soon in Aberdeen."
Brown stressed that Fallon was not being signed because he was unhappy with his present strikers.
"We haven't been scoring and that's something we've got to admit, but I'm convinced that the ones we have - Darren Mackie, Scott Vernon, Mohamed Chalali and Josh Magennis - will score goals.
"If you only have four strikers, you have fewer strikers than any other team in the SPL.
"Every club has at least five, six, seven forward players.
"Rory Fallon is an extra provision - not a replacement for any of the others."
Brown said that Fallon could come into contention for a starting place against Kilmarnock on Saturday should he prove his match fitness.