Esperance's N'Djeng calls for calm
Last updated on .From the section Football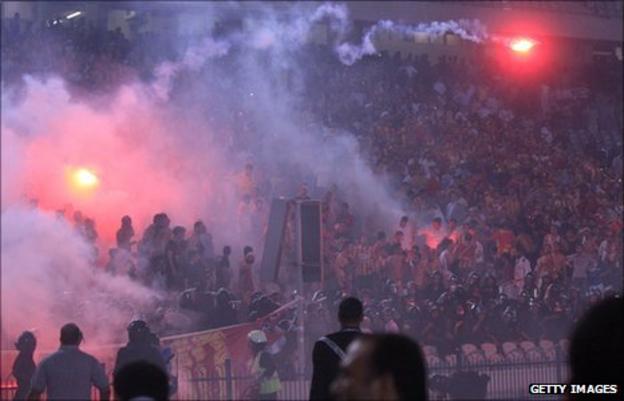 Esperance forward Yannick N'Djeng has appealed for calm ahead of Friday's crunch Champions League clash in Egypt.
On Friday, six-time champions Al Ahly host the Tunisians with a place in the semi-finals at stake.
Several incidents have broken out during key matches in North Africa this year, and Ahly's fans were involved in rioting just a week ago.
"I want this match to be fair play - football is not fighting," said the Cameroonian.
Esperance, who were last crowned African champions in 1994, need just a point to qualify from their final Group B qualifier.
The North African rivals met in the semi-finals last year when Esperance qualified thanks to a controversial goal scored by striker Michael Eneramo, who used his hand to convert from close range.
Ahly later reported the match referee to the Confederation of African Football (Caf).
Tunisian and Egyptian clubs have been hit by a spate of fan violence over the last twelve months.
And when Cairo giants Zamalek hosted Tunisia's Club Africain in the Champions League in April, the Egyptian fans rioted at the end of the game - prompting a heavy sanction from Caf.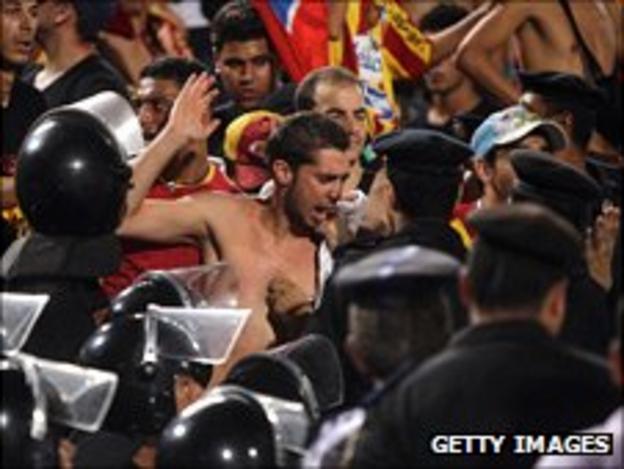 N'Djeng, who scored a hat-trick in last weekend's 4-0 defeat of Mouloudia Alger, is also under no illusions about how difficult Friday night's game in Cairo will be.
Al Ahly need to win by two clear goals to secure their progress to the last four.
"Ahly are a big team and everyone knows that they have the advantage since they are playing at home," N'Djeng explained.
"It's going to be a difficult game but Esperance are also a big team."
"I just want us to reach the semi-finals."
Esperance will be without Ghanaian Harrison Afful because the defender is suspended.
"It's teamwork - and if I'm not there, someone else will be," he said.
"But I believe in my colleagues and in the technical team - we can make it in Egypt."