Garry O'Connor gets Colin Calderwood backing
Last updated on .From the section Football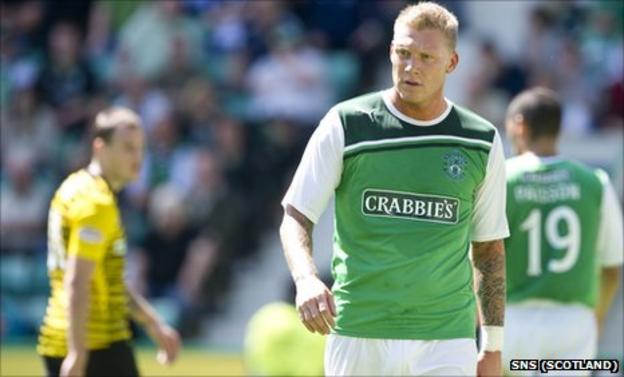 Hibernian manager Colin Calderwood is planning to use Garry O'Connor despite a troubled week for the striker.
O'Connor was named by Channel 4's Dispatches programme as having served a ban after testing positive for cocaine while at Birmingham City.
The 28-year-old has also been charged with attempted fraud, relating to an insurance claim on a damaged car.
Calderwood confirmed O'Connor would be in Hibs' squad for Dunfermline, saying: "Garry is focused and ready to play."
Ahead of Saturday's match at East End Park, the Hibs boss said: "You make a judgement call.
"We've got three games in eight days and five in 15 and we need everyone.
"If we had one game in 45 days, I'd still be thinking about him.
"A manager has to be aware of things around every player - from a headache or the fact their kids have been ill.
"These sorts of problems must be taken into account and they affect you on the training ground - and on a Saturday.
"Garry trains okay. I can only tell you from what I see on the training ground.
"He's preparing for the game. The extra stuff is sitting there in the background."
O'Connor began his career at Easter Road and returned this summer after spells with Lokomotiv Moscow, Birmingham and Barnsley.
According to Dispatches, O'Connor failed a drug test for cocaine on 19 October 2009 and was subsequently suspended for two months by the Football Association.
The programme went on to allege that Birmingham and the FA kept the ban secret.
A statement on Hibs' website said: "Garry O'Connor has been advised by his lawyers not to comment about the programme."
The fraud charge follows an insurance claim made after the player's Ferrari was found crashed on a country lane near Tranent in April.