Craig Brown recommends Sone Aluko to Sheffield United
Last updated on .From the section Football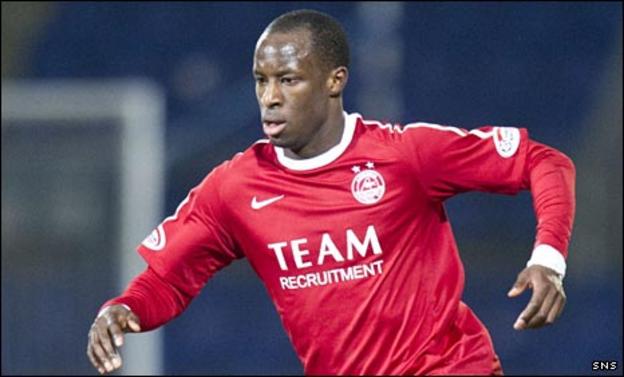 Aberdeen manager Craig Brown has recommended Sone Aluko to Sheffield United and hopes the out-of-contract forward will find a new club soon.
Aluko rejected a new contract with the Dons in the summer, but the Scottish Premier League club would be due compensation from any new employer.
"That was 10 days ago," Brown said of his conversation with Blades manager Danny Wilson.
"Maybe the compensation payment I mentioned to him has discouraged him."
The 22-year-old Aluko spent three seasons with the Dons after leaving Birmingham City following loan spells at Pittodrie and Blackpool.
Following his departure from Aberdeen, the London-born former England Under-19 forward has even been linked with a trial at Juventus.
"We would rather have had Sony, but he is disposed to stay down in the Midlands, although his dad had him over in Italy," said Brown.
"You could not get a nicer, more co-operative guy, but he feels like he did his stint for Aberdeen.
"Every time I speak to him, he is full of praise for Aberdeen and I say 'just get your coat and hat on and get back here'.
"But he says he has committed to his family to stay there.
"I know Danny well and you can be sure I gave him a very good recommendation."
Brown, whose club would be due compensation because of the player's age and time at Pittodrie, thinks Aluko should be fit enough to be quickly up to speed with any new side.
"He's not lacking in football, because he played all summer for Nigeria Under-23s," Brown pointed out.
"If he signed for someone tomorrow, he would have had a shorter close season than most guys."
The Blades are seeking midfield reinforcements after a move to land Rangers duo Kyle Hutton and John Fleck failed because the loan deal was not registered before the closure of the summer transfer window.
Former Dundee and Norwich City midfielder Mark Fotheringham has already been invited to Bramall Lane on trial after his departure from Anorthosis Famagusta.