Fifa rejects Mohamed Bin Hammam's bribery ban appeal
Last updated on .From the section Football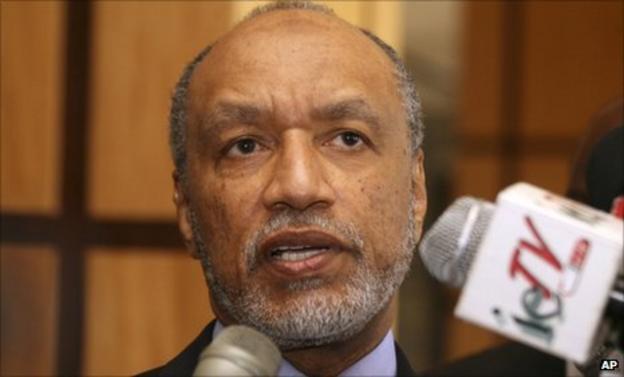 Mohamed bin Hammam will take his case against a lifetime ban from football to the Court of Arbitration for Sport after Fifa rejected his initial appeal.
Fifa banned Bin Hammam, 62, after finding him guilty of bribing Caribbean voters with $40,000 to back his later abandoned campaign to become president.
The original Fifa report said there was "convincing and overwhelming" proof that bribes had been paid to officials.
Bin Hammam is the most senior figure banned by Fifa in its 107-year history.
A statement from Bin Hammam's lawyer, Eugene Gulland, confirmed: "As expected, the Fifa appeals panel, which met in Zurich today [Thursday], upheld the 23 July ruling by the Fifa ethics committee, and we will therefore be taking our appeal to the Court of Arbitration for Sport (CAS)."
Fifa's statement, released on Thursday, read: "The appeal made by Mohammed Bin Hammam has been rejected and the decision of the Fifa ethics committee confirmed.
"The sanction of being banned from taking part in any kind of football-related activity [administrative, sports or any other] at national and international level for life has therefore been maintained."
Bin Hammam was accused of attempting to buy votes ahead of June's Fifa presidential election which led to his withdrawal from the race, handing incumbent president Sepp Blatter a fourth consecutive term as head of football's world governing body.
His lawyer Gulland added: "Mr Bin Hammam has already gone on record stating that he was not optimistic of justice prevailing from the Fifa appeals process but this was a protocol to enable him to obtain access to Cas.
"We have also brought a separate legal proceeding before Cas which challenges the right of Fifa to designate Zhang Jilong as 'acting president' of the Asian Football Confederation and appoint him to sit on the Fifa executive committee.
"These decisions infringe the Asian Football Confederation's constitution."