Ashley Williams relishes 'dream' clash against West Bromwich Albion
Last updated on .From the section Football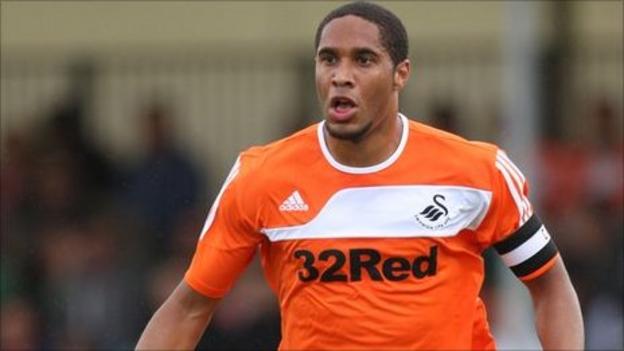 Swansea City's Ashley Williams admits he will be living a dream come true by facing the club that rejected him as a teenager in the top flight on Saturday.
The Swans host West Bromwich Albion as they bid for a first Premier League win with Williams saying: "It's just a dream come true, games like Saturday."
But the 26-year-old denies a winless four-match record has put Brendan Rodgers' side under pressure.
The defender said: "We need that little bit of luck or a bit of composure."
West Brom let Williams go when he was 16, leaving the player feeling as if the "world probably ended" for him.
He added: "I just had to get on with it and then I just tried to start enjoying my football again and I've been to a few clubs and played a few games and now we're here again, playing against them in the Prem."
Erstwhile Wales captain Williams has led Swansea in Garry Monk's injury absence.
Monk could return at the Liberty Stadium with summer loan signing Steven Caulker out for eight weeks because of knee trouble.
And Williams believes he and Monk's understanding will not weaken their efforts at the back that has seen Swansea not concede a goal at home in scoreless draws against Wigan and Sunderland.
"I think he's [Caulker] done very well and can be pleased with the start he's made.
"But if Garry comes back in, we know each other inside out and I've played with him for three years so it's business as usual.
"And we'll try and get a job done, keep another clean sheet at home, which is important for us… and we're not too concerned about it.
"For him not to play in the first four games has been killing him. But he'll get his chance and that's football, isn't it?
"Injuries are part and parcel of it and missing out and stuff and when your time comes, it makes it all the sweeter."
Up front, Swansea have yet to score, but the former Hednesford and Stockport player says he and his team-mates have performed well.
Williams said: "We don't feel like we're under pressure because if we weren't playing well it would be all crisis meetings and everything.
"But we think that we're playing quite well - well enough to win games."