Caf reveals kick-off times for 2012 qualifiers
Last updated on .From the section Football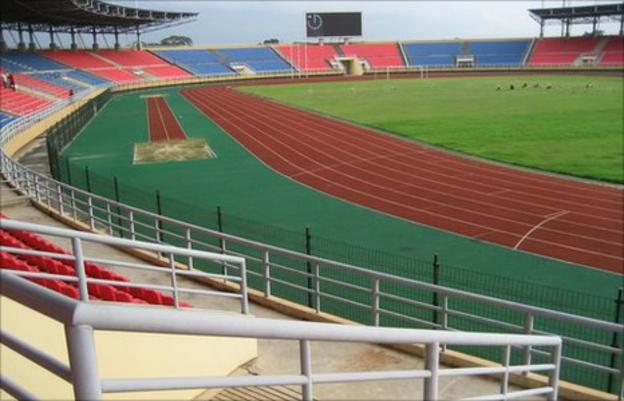 The Confederation of African Football has announced the kick-off times for the final round of 2012 Africa Cup of Nations qualifiers.
A total of 21 matches will take place on the weekend of 08-09 October, with 10 places still up for grabs.
Caf confirmed that each group's final round of qualifiers will start at the same time.
The move is to ensure that there is competitiveness and fairness in the final round of matches.
Caf sought the preferences from the continent's various federations before announcing each kick-off time.
Fifteen matches will be played on 8 October with four scheduled for the following day.
The only match to be played on 7 October is the clash between DR Congo and Cameroon because both sides have no chance of qualifying for next year's tournament.
Joining hosts Equatorial Guinea and Gabon in January's finals are Botswana, Ivory Coast, Senegal and Burkina Faso.
However, the appearance of the Burkinabe Stallions at the Nations Cup is uncertain because of a protest over the eligibility of Herve Zengue lodged by Group F rivals Namibia.
Caf is expected to consider the issue of Zengue, who is Cameroonian-born but married to a Burkinabe, before the final round of matches.
Equatorial Guinea and Gabon will host the 2012 Nations Cup between 20 January and 12 February.
Defending champions Egypt will not be there to defend their crown after failing to win any of their first five Group G games.
Dates and kick-off times for the final round of 2012 Africa Cup of Nations qualifiers
Group A
Liberia v Mali - 8th October at 15h00 GMT
Cape Verde v Zimbabwe - 8th October at 15h00 GMT
Group B
Ethiopia v Madagascar - 8th October at 13h00 GMT
Nigeria v Guinea - 8th October at 13h00 GMT
Group C
Zambia v Libya - 8th October at 13h00 GMT
Mozambique v Comoros - 8th October at 13h00 GMT
Group D
Morocco v Tanzania - 9th October at 19h30 GMT
Algeria v Central Africa - 9th October at 19h30 GMT
Group E
Mauritius v Senegal - 9th October at 13h00 GMT
DR Congo v Cameroon - 7th October at 14h30 GMT
Group F
Gambia v Burkina Faso -8th October at 16h30 GMT
Mauritania v Namibia (Mauritania withdrew)
Group G
Egypt v Niger - 8th October 15h00 GMT
South Africa v Sierra Leone - 8th October at 15h00 GMT
Group H
Benin v Rwanda - 9th October at 14h00 GMT
Ivory Coast v Burundi - 9th October at 14h00 GMT
Group I
Swaziland v Congo - 8th October at 13h00 GMT
Sudan v Ghana - 8th October at 13h00 GMT
Group J
Uganda v Kenya - 8th October at 14h00 GMT
Guinea Bissau v Angola- 8th October at 14h00 GMT
Group K
Chad v Malawi - 8th October at 15h00 GMT
Tunisia v Togo- 8th October at 15h00 GMT