Brent still interested in taking over Plymouth Argyle
Last updated on .From the section Football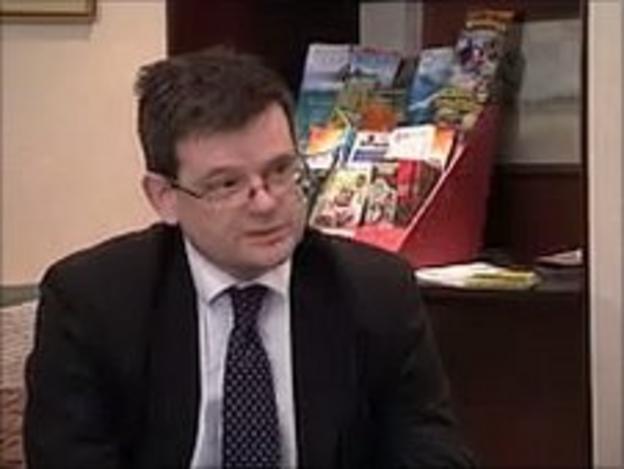 Plymouth Argyle bidder James Brent is still on course to bid to take over the club, who are in administration.
The hotelier has spent the week talking to stakeholders in the club as his Akkeron Group weighs up a bid.
"No red lights have been identified and I am more hopeful today than a week ago that the club can defy liquidation although there remain considerable challenges ahead," he said.
Brent's bid is supported by Argyle's players and fan groups.
The statement released by Brent said that he was still negotiating with interested parties.
"The issues are complicated and the various stakeholders need to obtain their required approvals to implement a transaction. There remain considerable challenges ahead and there is no guarantee that a rescue can be implemented," it read.
Argyle have been in administration since March after going bust.
A rival bid from Gibraltar-based consortium Bishop International is still on the table.
Brent praised the players and staff who have not been properly paid since last year.
"I would compliment the staff, players and their families on the sacrifices that they have made. I have never seen such employee sacrifice before, nor do I want to see it again," he said.
Argyle chairman Peter Ridsdale welcomed the announncement.
''Today's announcement from James Brent suggests that there is a real possibility of a successful outcome," he said.
"James can be assured of everyone's full co-operation to bring this matter to a swift and positive conclusion.
"The last year has done tremendous damage to Plymouth Argyle but the spirit that has been shown by everyone in keeping the club alive will be harnessed to rebuild and to provide a club that the City of Plymouth and supporters can continue to be truly proud of."
Meanwhile, the leader of Plymouth City Council, Vivian Pengelley, says the council would consider buying Home Park.
"The City Council would like to be clear that it considers it important that a city the size and status of Plymouth should not, if at all possible, be without a professional football club.
"We are therefore prepared to work to help ensure the survival of the club and protect wider community benefits.
"That would include the consideration of the purchase of Home Park on a commercial basis.
"Any decision would of course have to be subject to appropriate due diligence checks and Council approval," she said in a statement.