Bobby Petta and Billy Dodds' Old Firm memories
By Andy Campbell
BBC Sport Scotland
Last updated on .From the section Football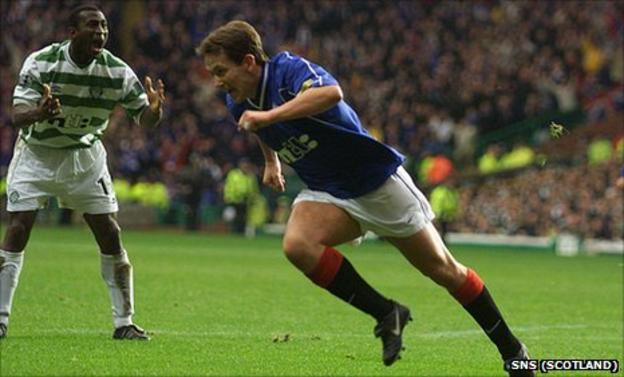 Sunday's Old Firm match will create new memories for players and fans alike and former Celtic winger Bobby Petta and ex-Rangers striker Billy Dodds will certainly never forget their experience of the derby.
Petta produced a superb individual performance as Celtic beat their old rivals 6-2 in 2000.
"The 6-2 game, that was my first one and it was a special one too, of course," Petta told BBC Radio Scotland's Sportsound programme.
"It was a great experience for me and a great result and obviously it's something I will never forget.
"Old Firm games are very special and I'm happy to be part of it because people talk about it beforehand and you don't know what it's actually like until you've actually played in one. It's something that I'll treasure for ever.
"It's so close. Everybody's fired up. Whether you think you're favourites or not on that particular day, you just have to be ready."
Dodds scored a penalty in Rangers' hefty defeat, but has happier memories from other derbies, scoring a decisive equaliser on his Old Firm debut in 1999 and playing his part in a 4-0 win over Celtic months later.
"I'll never forget the 6-2! It was just one of those games, within 20 minutes we were blown away, 3-0 down," said the BBC Scotland pundit.
"We beat them 4-0 at Ibrox and it was similar, we blew Celtic away that day. I didn't score but we just constantly took the game to Celtic. Jorg Albertz scored, Andrei Kancelskis scored and the game was over before they knew it.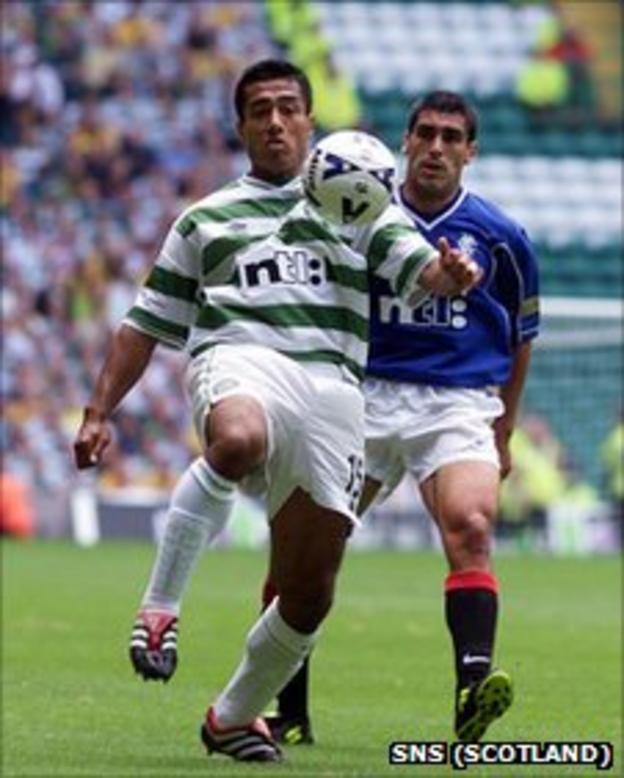 "If you didn't concentrate and focus and really think about it, it could be over before you knew it.
"In the 1-1 draw, Mark Viduka scored then I scored the equaliser. It was as if I blinked and the game was finished, it was that quick.
"I couldn't hear the Rangers fans when I scored the equaliser, it was that loud. The atmosphere's surreal at Celtic Park and it'll be the same for the Celtic players coming to Ibrox."
Celtic had the edge in last season's seven meetings, winning three to Rangers' two and the other games ending in draws.
Georgios Samaras experienced incredible highs and disappointing lows in some of those games, scoring a double in Celtic's 2-0 win at Ibrox in January but missing a penalty at the same venue in a goalless draw near the end of the campaign.
"He missed a penalty last season so I think he would be dying to make amends for that at some stage," says Petta.
"He's got so much ability, at times when I've seen him he's fine for the first 10, 15 minutes and then he seems to drift away. I really hope on Sunday he steps to the plate and releases the ball a bit quicker.
"You need to have desire and things need to happen on the day so you need a bit of luck. It could be over in 10 minutes. We won 6-2 at home but we lost 5-1 (at Ibrox); that's football for you. You need to set your stall out pretty quickly and have good tactics.
"I think it's going to be a draw, 2-2 I think."
Nikica Jelavic is expected to lead the line for Rangers and Dodds expects a familiar looking line-up for Ally McCoist's side.
"I think Rangers will go with a 4-4-1-1," said the former Scotland international. "Steven Naismith and Kyle Lafferty might play on a side or in behind Nikica Jelavic.
"Celtic have got the more talented squad but Rangers know how to win games whatever way they play and that's why they've won the title the last three years.
"You'd be a mad man if you were going to try and predict this game. It's not sitting on the fence, I can see a scoring draw. I would go 1-1."