Unhappy Everton fans can claim shirt refunds on star players
Last updated on .From the section Football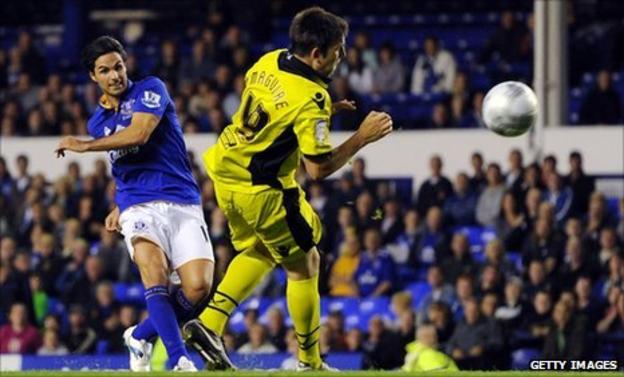 Everton fans who splashed out on replica shirts with the names Arteta or Beckford on the back have been handed a lifeline by chairman Bill Kenwright.
Kenwright said: "I simply want to try and play fair by those supporters who have spent hard-earned money."
The deadline for refunds is 30 September.
Manager David Moyes raised around £14m from the last-minute sales of Arteta and Beckford. He was unable to bring in permanent replacements but secured the loan signings of Argentine striker Denis Stracqualursi and Dutch midfielder Royston Drenthe.
Kenwright has come in for criticism from a small group of fans since transfer deadline day for a lack of progress on selling the club, which is in need of major investment.
The chairman said: "I have been contacted by several supporters, a lot with children, who had bought the new shirts with Mikel and Jermaine's surnames on the back of them.
"Both players left the club quite literally at the very last minute on transfer deadline day. These are unusual circumstances."
Any supporter who purchased the 2011/12 home or away kit, printed with the names of the departed players, from either the Everton One or Everton Two stores in the city or did so from the club's online store can get their money back if they can provide proof of purchase.
Everton began their season by losing 1-0 at home to QPR, but have since beaten Blackburn and drawn with Aston Villa.
They also won their Carling Cup second round tie against Sheffield United 3-1 and face West Bromwich Albion in the third round on 21 September.
In March, Reading fan Jon McGhee won a refund of £42 plus costs when the Berkshire club settled out of court over a row to win back the price of a replica shirt.
McGhee, 13, was bought a shirt with the name of Gylfi Sigurdsson on the back for his birthday, but soon after the Icelandic midfielder moved to German side Hoffenheim.