Swansea boss Brendan Rodgers wants West Brom win for father
Last updated on .From the section Football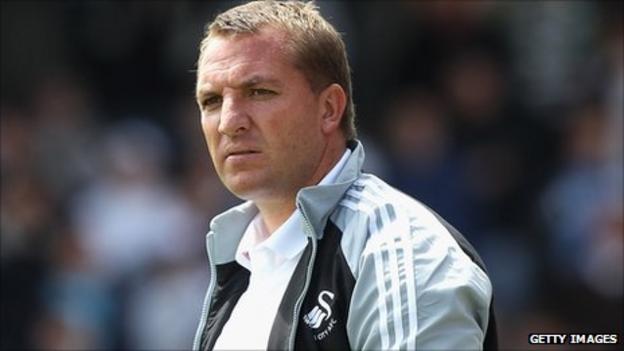 Swansea manager Brendan Rodgers has said he wants to beat West Brom for his father who died last week.
The Northern Irishman returns to work following the death of his father Malachy following a battle with cancer.
Rodgers missed the 1-0 defeat at Arsenal last weekend after flying home to be with his family.
"To hold the hand of my father when he was dying was more important to me," he told 5Live's Juliette Ferrington.
"Football is a wonderful game but family is the most important thing in your life.
"It was obviously disappointing not to be at the Emirates, but I'm hopeful they'll be many more chances to take Swansea to the Emirates."
The defeat against the Gunners meant the Swans remained without that elusive first Premier League goal and win.
But Rodgers is determined to change that this weekend.
He said: "It's been a tough couple of days but my mind is very much on my work and getting back in amongst the group again.
"Swansea has been a wonderful family for me as a city and as a football club. It really hits home once something happens like that which happens to a lot of people when you lose your parents.
"But thankfully I am coming back to a club and city which have shown me great hope and always given me a wonderful reception since I have been here.
"I want to get back to hopefully making my father proud and the club proud with that first win."