Blackburn's Steve Kean delighted with win against Arsenal
Last updated on .From the section Football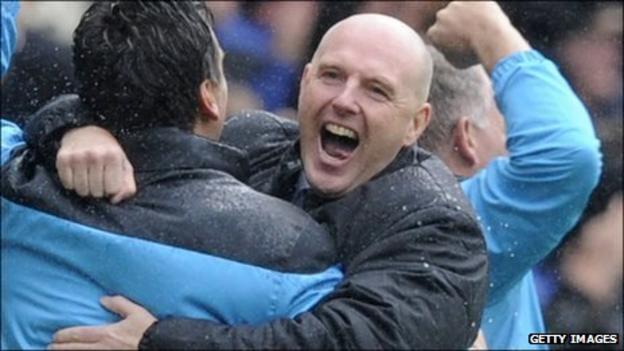 Under-fire Blackburn boss Steve Kean spoke of his delight at Rovers' first victory of the season after they beat Arsenal 4-3 at Ewood Park on Saturday.
Kean was the subject of a pre-match protest march from about 500 Blackburn fans who called for his dismissal.
"We've been excellent this season and hopefully we've shown that to the 1% of people who protested today," said Kean.
"I'm absolutely delighted for the players and for the owners who were here today to witness a special win."
The victory lifted Blackburn off the bottom of the Premier League and consigned Arsenal to their third defeat from five games this season.
"We needed a bit of luck today, our intensity and desire to win the game probably pushed that our way," Kean told BBC Sport.
"It is a fantastic three points. I think the manner in which we played, especially in the second half, was fantastic.
"There has been a lot aimed at us about how we play in the second half of games and how we tail off, but we certainly didn't do that today.
"It's a performance and it's a result. The last couple of weeks I thought we had the performances but not the results and today we have both.
"In the second half we showed what we have got in the dressing room and that is lads that are totally behind each other, myself and the staff."
Rovers now climb above Arsenal, and Kean hopes the victory will appease some of the antipathy towards him from Blackburn's protesting supporters.
"I can understand the frustrations of the supporters. We the staff, the owners and the players feel the same frustration that we haven't managed to get the results and more points on the board," added the Rovers manager.
"But we haven't not been getting the performances through want of trying, it is not like we've been getting battered each week. I hope the 99% of people who didn't protest go home happy with the way we've played."
Defeat for Arsenal was their 100th away loss in the Premier League and compounds their miserable start to the season.
Arsene Wenger's side have collected four points from a possible 15. Wenger, who marks 15 years in charge of the club next month, has rarely experienced a run as bad as this in all that time.
Since losing to Birmingham City in last season's League Cup final in February, Arsenal have won just three of 16 league matches including their 8-2 loss at Old Trafford earlier this month
And Wenger admits his side are lacking in confidence following recent results.
"We had so many chances in the game and on top of that we scored two own goals so it is unbelievable to understand, but we have to take it on the chin," Wenger told BBC Sport.
"At the moment defensively we are fragile because our confidence is gone due to what happened at Old Trafford.
"But there is a potential in the team and we need to be more relaxed and gain belief in our defending."