Celtic note Daily Record apology to Neil Lennon
Last updated on .From the section Football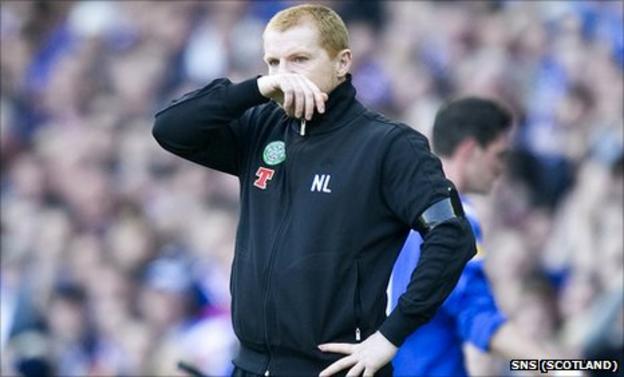 The Daily Record has issued an apology to Celtic manager Neil Lennon following the use of an inflamatory headline.
The back page of Saturday's edition read: "Who's More Hated at Ibrox (is it Lennon or the Taxman?)", ahead of Sunday's Old Firm match.
Under the banner "We're sorry", Monday's Record acknowledges it was a mistake to use the word "hated".
"We would hope that this kind of ill-judged reporting does not occur again," was Celtic's response.
Saturday's article compared Rangers fans' views of Lennon with the club's tax dispute.
And a Celtic statement called the headline "inflammatory and offensive" and demanded "a suitable retraction and apology".
An apology has now been made, with the the newspaper admitting that the headline was "a misjudgement and not intended to stoke up feelings ahead of yesterday's match", which ended in a 4-2 win for Rangers.
The Record story continues: "We apologise for any offence this may have caused Neil Lennon, his family and also supporters.
"The Daily Record has a long history of condemning intolerance in all its forms."
Since his arrival as a player - and subsequently as manager of the Glasgow club - Lennon has been the recipient of parcel bombs and bullets in the post, physical assaults and a recent attack from a Hearts fan at Tynecastle that resulted in a custodial sentence.
Celtic issued a statement following the apology, saying: "Celtic has made its feelings very clear on this issue.
"We felt the language used was inflammatory and highly irresponsible. The treatment of Neil Lennon has been well-documented and in this context the article in question was insensitive and unnecessary.
"We understood absolutely the feelings of Neil Lennon and our supporters on this issue. It is only right that the newspaper in question has admitted it was wrong."
Celtic had withdrawn co-operation with the Record following the story but their response to the newspaper's apology does not mention if that situation has changed.
Scottish Football Association chief executive Stewart Regan posted a message on the social network Twitter saying: "It would be helpful if newspaper headlines focused on the football rather than referring to 'hatred' ahead of the first Old Firm match."