Sergio praises Hearts' workrate after Buddies victory
Last updated on .From the section Football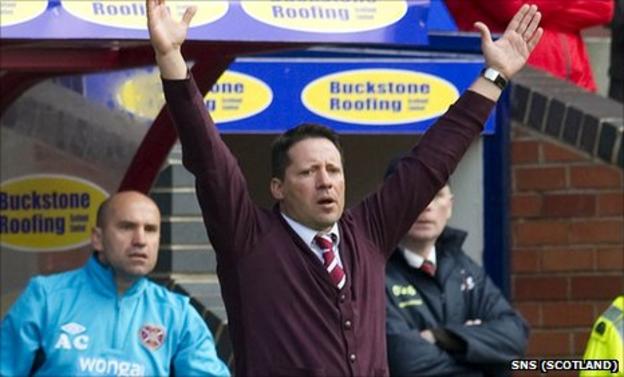 Hearts manager Paulo Sergio praised his side's workrate following a 2-0 victory against St Mirren at Tynecastle.
A first-half penalty from Jamie Hamill and a second-half own goal sealed the win for Sergio's men after a tough contest with the Paisely outfit.
"We were playing against a good team," Sergio told BBC Scotland.
"One of the teams that play better football in the league, but we defended really well and we didn't let them play the game they like."
Hearts extended their unbeaten run to six games with Hamill converting from the spot after Illias Haddad fouled Marius Zaliukas in the penalty area.
The hosts doubled their lead in the second half when Lee Mair dived to head the ball into his own net, but Sergio was content that his players had created enough opportunities to win the match and praised their ongoing development.
"It was Hearts who created a good number of chances to score, so I'm happy with the work of our players," said Sergio.
"We work every day in the week to improve our football, and we have to be clever too because we want to pass the ball well, but we forgot we were playing a team who wanted to pressure us.
"If you change what you are doing, you have to be clever in the way you do it. We took some risks, but in the end it was a deserved victory.
"We defended very well and we made a lot of chances to score."
Sergio was also unconcerned about any long-term effect from Andy Webster's pre-match injury which ruled him out of the game and went on to insist that his side will continue to strive for wins over fanciful football.
He added: "If you can win and entertain the public, it's fantastic - but I don't think people go home to their houses happy if you play well and lose the game.
"I want my team to play good football, but first of all, we are here to win."