Lennon maintains faith in Buddies after defeat
Last updated on .From the section Football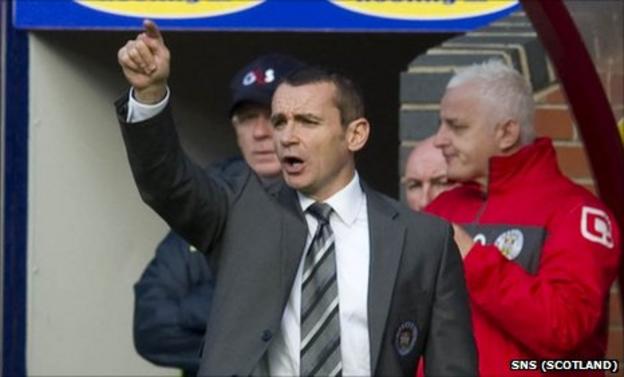 St Mirren manager Danny Lennon remained pragmatic after his side's 2-0 defeat by Hearts at Tynecastle and vowed to work hard to secure more victories.
A first-half penalty from Jamie Hamill and a second-half own-goal by Lee Mair handed Hearts victory.
"The players have an unbelievable attitude, tremendous self-belief and professionalism," said Lennon.
"They're a great bunch and I believe that the quality I see on the training ground will transfer on match days."
The defeat ended St Mirren's four-match unbeaten run on the road after Hamill converted from the spot when Illias Haddad fouled Marius Zaliukas in the penalty area and Mair dived to head the ball into his own net.
St Mirren struggled to find a way back into the match, but Lennon is confident that he has seen enough of a workrate in training to produce better results in future.
"I thought the first half was pretty even, but goals change games," added Lennon.
"In the second half we battled away and tried to tweak things, but it didn't come off with us.
"Then we were hit with another sucker-punch - that was the difference between the sides - they took their opportunites when they got them, but we know where our problems lie and we know how to fix them.
"We know where the cutting edge lies - it's in the final third.
"We were working endlessly throughout the week to try and put it right - and we'll continue to work until we get it right.
"We've got to be brave and bold enough and believe that we won't bend.
"The manner we're trying to play the game is our best opportunity to win games - to create more in the final third - and I believe we have the group of players who can do it."