Brendan Rodgers hails 'inspiring' Swansea win over West Brom
Last updated on .From the section Football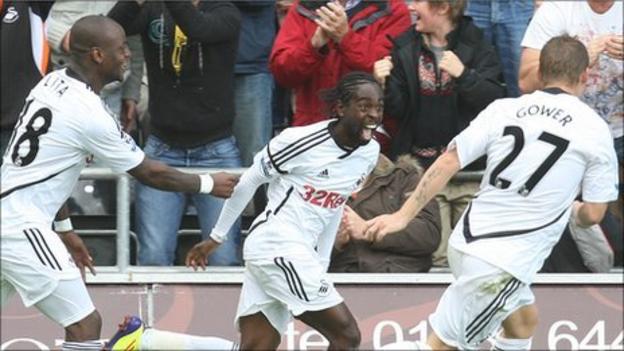 Brendan Rodgers said he hoped Swansea City's win on Saturday offered "hope and inspiration" to the local community at the end of a tragic week.
Four miners were killed in a Swansea Valley colliery after an accident on Thursday.
Rodgers, who lost his father to cancer a week ago, said: "There's been a lot of sadness this week.
"For us to provide hope and inspiration for the people of south Wales, and in particular Swansea, makes me happy."
The game against West Bromwich Albion at the Liberty Stadium was preceded by a minute's silence in memory of the miners and Rodgers' father.
On Thursday, before the full extent of the mining tragedy became clear, Rodgers said he wanted to honour the memory of his father by securing Swansea's first Premier League win.
Extra poignancy was attached to the match as the local community began to come to terms with the deaths of the four miners, whose bodies were discovered on Friday in a flooded mine shaft.
"Obviously our thoughts go to the miners who have lost their lives and the families involved," added Rodgers.
"Having experienced a death recently, it's obviously a very, very difficult thing to cope with. What football does is provide you with hope and I think our performance will provide a lot of hope to the people that are sad."
Swansea entered Saturday's game without a goal to their name after four games, and the relief was palpable around the ground when Scott Sinclair slotted home a 14th-minute penalty to put the home side ahead.
Leroy Lita grabbed his first goal for the club 10 minutes later, nodding home from Sinclair's header across the box, before Nathan Dyer raced on to a flick-on from the striker to fire in the third shortly after the break.
"People have identified that we are a good side," said Rodgers. "What we have failed to do in the first four games was, through a little bit of bad luck I felt, was to get that final touch to get a goal.
"But today we had everything. Our possession was outstanding - we controlled the game for long part. We got the goal and, as everyone knows, goals win games.
"I also thought it was a very complete performance because defensively we were outstanding as well.
"Our pressing was good and when we had to defend our own half we blocked spaces and lines very well."
The only concern for Rodgers was a nasty injury to Neil Taylor, who left the field unconscious on a stretcher and supported by a neck brace after an aerial collision with Peter Odemwingie.
But the 22-year-old full-back regained consciousness in the changing rooms and had his head wound was stitched up by the Swansea medical staff.
"It looked a nasty blow, I've got to say, and reminded me of the Didier Drogba one a few weeks back," added Rodgers, who has recently lost defenders Alan Tate and Stephen Caulker to injury.
"But thankfully he's come around, he's well."