Peter Reid sacked as manager of Plymouth Argyle
Last updated on .From the section Football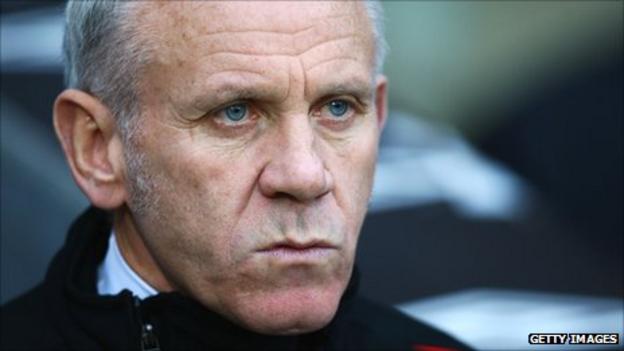 Peter Reid has been sacked as manager of Plymouth Argyle after 15 months in charge.
The financially-stricken club are bottom of League Two with one point from nine games and lost 2-0 at Southend on Saturday.
"Peter has had to put up with more in a short period of time than most managers have to put up with in a whole career," acting chairman Peter Ridsdale said.
"Ultimately, whatever the challenges, football is a results business."
Reid took over at the beginning of the 2010-11 season before the financial crisis hit.
Plymouth ended up being relegated from League One after being docked 10 points for going into administration. The points total achieved would have been enough to Plymouth to stay up otherwise.
Despite months of talks, the future of the club has still not been resolved.
Earlier this week, Devon-based businessman James Brent was said to be on course to take over the club.
The hotelier had spent the week talking to stakeholders as his Akkeron Group weighed up a bid.
Brent's bid is supported by Argyle's players and fan groups. A rival bid from Gibraltar-based consortium Bishop International is still on the table, but any takeover has failed to materialse.
In the meantime, staff and players had been working for the last nine months more or less unpaid.
Players had threatened to go on strike last month after being asked to forgo their pay.
When the crisis first hit, Reid paid the heating bill out of his own pocket. He also donated his 1986 FA Cup Final loser's medal to be auctioned to help raise money for the club's unpaid staff.
Ridsdale said: "Peter inherited an unsustainable wage bill and a club that, with the benefit of hindsight, was in financial meltdown.
"During the last 15 months, Peter has been the ultimate professional.
"It is crucial that we give ourselves time to attempt to preserve Football League status and therefore it is felt that a change of manager now is the only option.
"Peter leaves with our unreserved thanks for his contribution in helping keep the club alive during this turbulent period and he leaves with our very best wishes for the future."
Ridsdale added that an announcement would be made in the next 24 hours on an interim management team. However, Argyle are expected to look to their senior professionals to manage the side until the club are bought out of adminstration.