Larrieu happy to run Plymouth Argyle on interim basis
Last updated on .From the section Football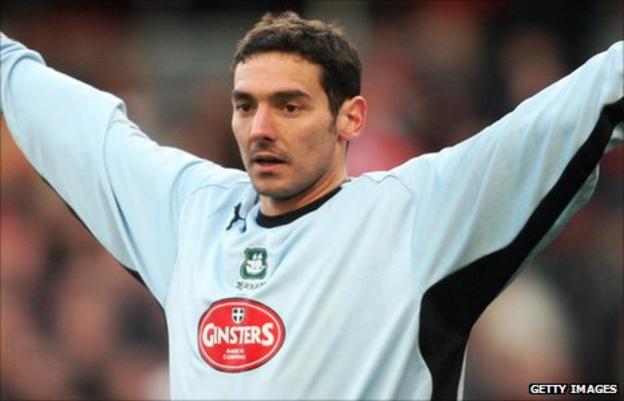 Plymouth Argyle goalkeeper Romain Larrieu says he would be happy to take over the side on an interim basis.
Larrieu, 35, who has played at Home Park for 11 years and is club captain, is set to meet with acting chairman Peter Ridsdale on Monday.
"I would [want it] because that is part of the game that I'm interested in," he told BBC Radio Devon.
Argyle on Sunday after the club's 13th match without a win on Saturday.
"You need to start somewhere so if I was asked I'd be honoured and be more than happy," he added.
Larrieu is one of only a few experienced professionals at the club, who are in administration.
"You always feel sad for the manager because part of me wishes he could have been in the club in a better position because he could have done justice to himself," Larrieu said.
"There was a feeling of inevitability because whatever we tried we kept on losing."
But he says the squad are strong enough to get out of their current on-field crisis.
"There is a lot of young players and I feel that it is unfair because they were asked to do men's jobs and they've been thrown in at the deep end.
"But I can see enough quality in them to turn it around, so we shall see," he added.