Patrick Vieira heads Manchester City's grand plan
By Alistair Magowan
BBC Sport
Last updated on .From the section Football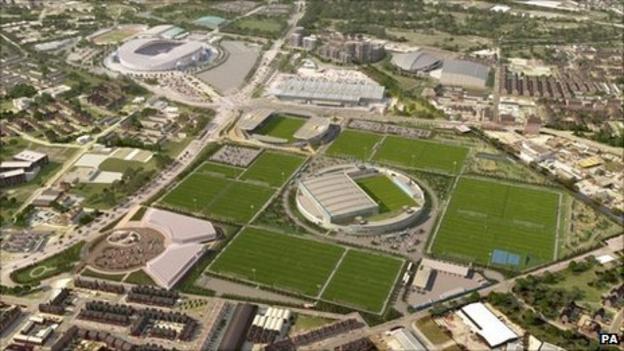 Patrick Vieira believes player development in England has to improve and hopes Manchester City's new 80-acre training complex can help the situation.
"England does not produce as much talent as it should based on the passion for the game and the number of kids who are playing," says the former France international.
"I don't know why. I would be the wrong person to ask, but it matters to this club."
In the wake of chief executive Garry Cook's departure and wranglings with Uefa over the Financial Fair Play initiative, City will be glad to announce a grand plan which would appear to have the backing of all interested parties.
And though the details are impressive enough, it is the decision to house all of Manchester City's training, playing and administration facilities on one site that could have the biggest benefit.
Despite spending huge sums on players since owner Sheikh Mansour took over in 2008, City actually have one of the more successful academy systems in England.
Shaun Wright-Phillips, Micah Richards, Stephen Ireland and Joey Barton are four of the 38 graduates who have played at the top level in the past 12 years, with 10 of those going on to represent their respective countries.
Chief football operations officer Brian Marwood calls that a "proud achievement", yet he accepts that many of those players have been recruited from outside the city's boundaries.
"There are not many who have come from the Manchester area, even from the age of eight or nine," he explains. "So there are a number of factors that we need to improve on.
"Barcelona are the benchmark, having something like eight home-grown players playing in the Champions League final.
"You also look over the years at what Manchester United have done, you even look at what Crewe Alexandra have done. Middlesbrough are another great example of how you can develop players through into your first team. We have had success at that but we want to create a more enhanced model."
City certainly have the resources to fund such a project, thought to be over £100m and taking three to four years to complete, subject to planning permission.
And it has given them the scope to address some common concerns in youth development.
By housing an educational facility on site, all City's scholars will be able to train and study in house, therefore increasing the number of hours they will be coached during the week. The club is already teaching its 14-year-olds at its current academy site.
Vieira expects the youngsters to benefit from rubbing shoulders with big-name players.
"Everybody working for the club on the same site will be exciting and I think it will be fantastic for the youth because they will be next door to the first team," he says.
"That will make them think 'if I want to make it, I will have to act like them'. They will take the first team as a fantastic example. It will be important for the first-team players as well, to show the way to the youngsters."
As City elevate themselves to the Champions League, the task for academy graduates will only get harder as Marwood looks to develop youngsters who can play at that level.
But Vieira is determined to help make the club's core a local one.
"I think as a football club you always want to see young players coming from the local community and that facility will give them the chance to show their skills and to improve," he adds.
"It will be fantastic if, in five or six years, we have a few players from Manchester.
"In my time at Arsenal I think it was really important and the club was successful based on the famous back four [of Lee Dixon, Tony Adams, Steve Bould and Nigel Winterburn], so it is a good example.
"An English core is important but overall it's important to bring success to the football club and to bring success from the youth."
With the site set to include community facilities such as a swimming pool and a sixth-form college, City say it is not just the football world which will benefit.
"Maybe in football there is not the image that there should be," Vieira adds.
"But when you see a project like this it shows how football is important for the community and it is one of the moments that you can say you are proud to be a footballer."