Wolves boss Mick McCarthy defends Karl Henry in Joey Barton row
Last updated on .From the section Football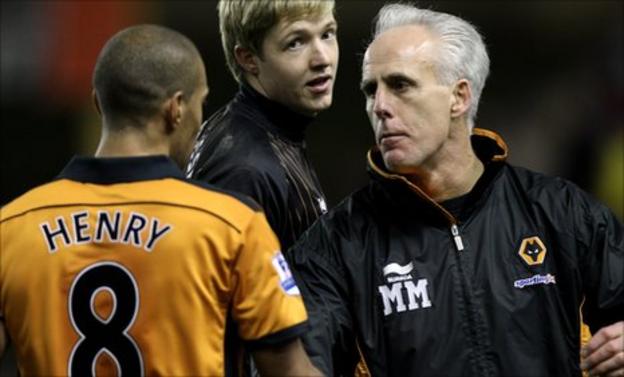 Wolves manager Mick McCarthy has defended Karl Henry after Queen's Park Rangers midfielder Joey Barton accused him of "trying to hurt people".
Barton had been unhappy at a Henry tackle, saying: "He is always sticking his foot in trying to hurt people".
But McCarthy said: "I've got nothing but admiration for him and never, ever, has he gone out to hurt anyone."
Barton criticised Henry via his Twitter account shortly after the victory at Molineux.
He wrote: "I bet u Kelvin [sic] Henry feels like an idiot today. He should just keep his trap firmly shut. #sundayleagueplayer."
The former Newcastle player then told Sky Sports' Goals On Sunday programme: "Everything I read from him, I really don't like him. I'm going to go on record saying that.
"I know from his challenges on me that he doesn't like me - I'm not going to mince my words.
"He has gone out to make a name for himself. He keeps doing these interviews saying he is this throw-back to this old-fashioned footballer.
"I've made challenges and I embrace the fact there is a physical element to our game but I think there is a fine line between being physical and actually going out to hurt people, to make a name for it."
Speaking ahead of Wolves' Carling Cup clash with Millwall, McCarthy said: "Karl is one of the best pros I've ever worked with in terms of his attitude and conscientiousness to his profession.
"He has earned himself the right to play in the Premier League by his guts and determination and made himself a better player.
"In defence of my player, who has been with me for five years, I'd hang my hat on him all day long. He is a great guy."
McCarthy also dismissed Barton's claims that Henry is a "Sunday League player".
He said: "Not unless Wolves are in the Dog and Duck League. He is a Premier League player.
"He captained us to the Championship and has been instrumental in our success over the last five years."
Henry said after the game: "It is just embarrassing really. If that is what he wants to do, he can carry on doing it but that is why a lot of people dislike him.
"He has tried to reinvent his image but it is probably the same old story."
The pair first came to blows in August 2010 during a 1-1 draw between Wolves and Newcastle.