Ex-Villa boss Gerard Houllier unlikely to return to management
Last updated on .From the section Football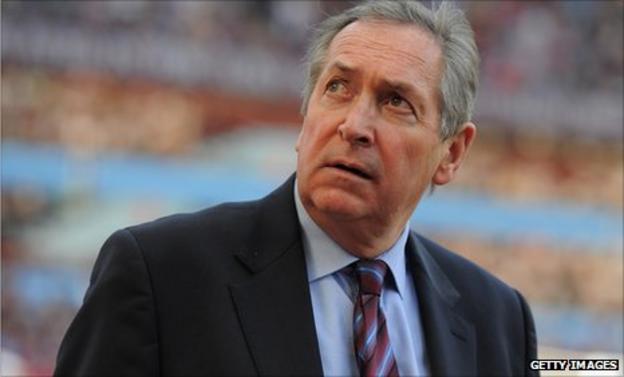 Gerard Houllier says he is unlikely to return to management after revealing he is still only "85%" recovered from his latest heart scare.
Houllier also had open-heart surgery while in charge of Liverpool in 2001.
"I've got to admit that, probably, I won't go back into management. I'm practically 85%. I'm still getting there." he said.
Houllier said that his heart problem was genetic and had not been helped by the stresses of football management.
"Obviously, the profession that I used to have was not the best to keep in good health because of what I have," he said.
Villa are unbeaten under new boss Alex McLeish and striker Gabriel Agbonlahor said he would have left the club had the Frenchman remained in charge with his assistant Gary McAllister, after criticising the Scot's training.
Houllier defended McAllister, saying: "I was a bit surprised that one of the players was having a go at his training sessions.
"Because, truly, he is a modern, very up-to-date and very good coach. In fact, some players really improved.
"We could see some progress in Ashley Young and Stewart Downing in the way they played and the way they even increased their technical abilities."
Houllier has been impressed by his former club Liverpool despite back-to-back defeats at Stoke and Tottenham and has tipped Reds manager Kenny Dalglish to guide them to a Champions League place.
"I think they'll finish in the top four. I believe in them," he added.
"Don't forget Steven Gerrard is not playing and, when he comes back, he'll make a difference."