Colin Calderwood key in Hibs switch - Billy Brown
Last updated on .From the section Football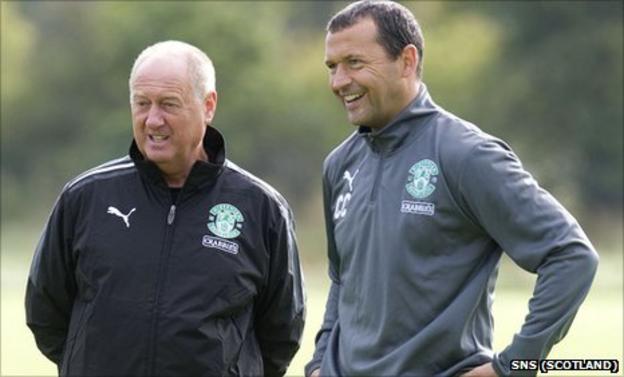 New assistant manager Billy Brown insists boss Colin Calderwood played a crucial role in engineering his surprise move to Hibernian.
"I met Colin after Hibs got in touch and it was done," said the coach who was sacked by Edinburgh rivals Hearts in August.
"If it hadn't been Colin's idea, I wouldn't have come.
"The manager and assistant have got to have the same mindset and I'm here because he wanted me to come here."
Brown, 60, has been assistant to Jim Jefferies at Berwick Rangers Falkirk, Hearts [twice], Bradford City and Kilmarnock and admitted it was strange to share the dugout with a new partner at the weekend, when Hibs drew 2-2 at Dunfermline.
"I had met Colin over the years at games and had always found him a decent fellow and the reason he brought me here was, after Derek Adams left, he didn't have an assistant manager, he was maybe waiting for the right one to come up," he added.
"I'm not short of experience, obviously, and maybe I'm exactly what he needed.
"But he's easy to take to and I don't think there will be any problems that way, but the fact that we weren't the best of friends is awfully important in this situation.
"Nothing surprises you in football, but I wouldn't have predicted this.
"There is no doubt that, after working with one man for 23 years, that a change is strange.
"It was a strange situation on Saturday to go into the dugout with Colin for the first time, but one thing about Colin, he is a nice chap, he is easy to get on with and I'm sure we will develop a good relationship."
Hibs have made a terrible start to the season, winning onlyt one of their seven Scottish Premier League games, and Brown wants time to take stock of the situation before offering any explanations for their poor form.
"I haven't been here long enough to see what's needed," he said.
"Obviously some changes are needed, you don't get into that position in the league through bad luck.
"I was only here on Friday morning for a wee while and then at the game on Saturday.
"But there is no feeling of doom and gloom. All the players seem relaxed and happy.
"I've got to get my feet under the table and see what happens."