Roy Aitken blames Celtic defending for Old Firm defeat
Last updated on .From the section Football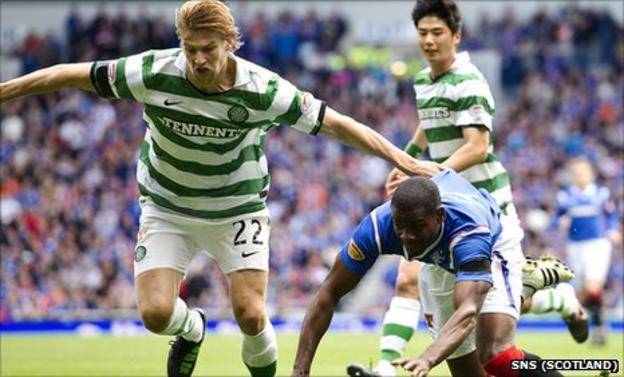 Former Celtic captain Roy Aitken believes that poor defending rather than a lack of spirit undermined Neil Lennon's side against Rangers.
The Ibrox side recovered from 2-1 down at half-time to win 4-2 on Sunday.
"I would be very surprised if any team under Neil Lennon lacks any spirit," Aitken told BBC Scotland.
"That was not crying out for me. For me, Celtic could not defend crosses in the game and ultimately they paid the price."
Rangers' win over Celtic stretched the reigning champions' lead over their Old Firm rivals to four points at the top of the Scottish Premier League.
Some have suggested that the home side showed a greater desire to win after the break, but Aitken thinks there has been an over-reaction from Celtic fans.
"I thought the game itself was pretty even," said the former Aberdeen manager who coached at Leeds United, Aston Villa and Birmingham City before becoming David O'Leary's assistant in Dubai with Al-Ahli last summer.
"It was the defending and balls played in from wide areas that cost them virtually every goal.
"And, unless they improve on that side of it, no matter how much effort they put in, they will still lose goals.
"There has been a lot of chopping and changing in that central defensive position and the goalkeepers the last few seasons, so they haven't had a settled group of players in that area.
"And that is maybe something that Neil and his coaching staff will be looking at to improve on, but they definitely have to have better quality in that central defence."
Aitken said that some Celtic players might have paid in the second half for their involvement in Thursday's 2-0 Europa League Group I defeat away to Atletico Madrid.
"They came off a tough, tough game in midweek as well, so there was an element of tired legs," he said.
"There were two or three incidents in that second half when the game could have swung either way.
"Loovens hits the post at a very important stage in the game. If that goes in, the whole game turns."
Aitken thought Celtic's board and fans should stick with Lennon.
"It is too early in the season to say that the pressure is now going to pile on him," he said.
"I think Neil Lennon is still the right man for the job and will get the best out of those players.
"It is too early to press the panic button as there are plenty of games left."
Despite the result, Aitken was full of praise for the first Old Firm game of the season.
"I thought it was a great game and a great advert for the Scottish football," he added.
"A lot of locals watched it here in Dubai and they were really impressed with the level of football and the excitement."