Hibs' Ivan Sproule lays blame at players, not manager
Last updated on .From the section Football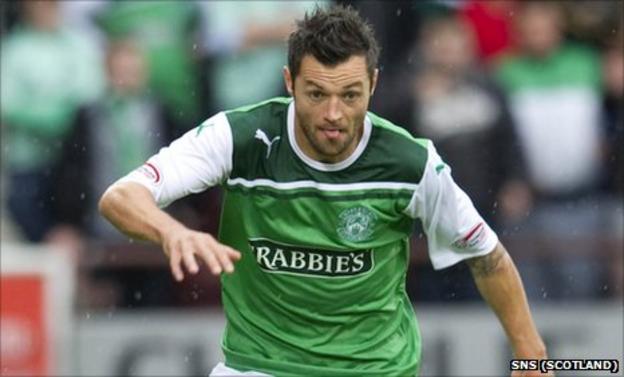 Hibernian winger Ivan Sproule says the club's players are working hard to improve their poor start to the Scottish Premier League season.
Speaking to BBC Scotland, Sproule said responsibility for results is shared by the whole team, and manager Colin Calderwood is not at fault.
"He's certainly not to blame for our start to the season," said Sproule.
"The players, the coaches and the manager are to blame - we're one club and we have to take a responsibility."
Hibs surrendered a two-goal lead in a 2-2 draw with Dunfermline at East End Park on Saturday and Calderwood admitted it was "frustrating" to watch his players leak careless goals.
Despite the poor start, Sproule is confident in Calderwood's ability and insists that the players will keep working on their defensive deficiencies on the training ground.
"The players are the ones to blame at the minute, because we're making mistakes," said Sproule, who scored Hibs' opener at East End Park.
"The gaffer is going through a sticky patch, so you could say that, as a group thing, we are underacheiving - if I knew what went wrong, I would be the manager.
"I can't put my finger on it, it's something that the team will have to go down on to the training pitch and rectify it.
"It has to be rectified shortly, because we can't keep going on leading games or giving silly goals away and not giving ourselves a chance.
"We've got players in the squad that can hurt other teams and we can't hurt them and then play the way we play and then concede goals."
Sproule also acknowledged the concerns of fans, who were invited to take part in talks with managing director Fyfe Hyland over recent performances, and insisted that the players and management were as keen as supporters to resolve the problems.
"The fans are a massive part of the club and, without them, you wouldn't have a club," said Sproule.
"There's a concern there that some of them have decided to stay away, so it's up to the players and management to entertain them and bring them back in.
"There's only one way you can do that and it's to win games.
"We all have to stick toghether. I feel for the fans- they deserve better - but that's football for you, sometimes it doesn't happen.
"What I can tell them is that we have experienced lads who are trying to play for the club.
"We're giving it our all and it hurts us as much as it hurts the fans."