Swansea captain Garry Monk wary of Chelsea's Fernando Torres
Last updated on .From the section Football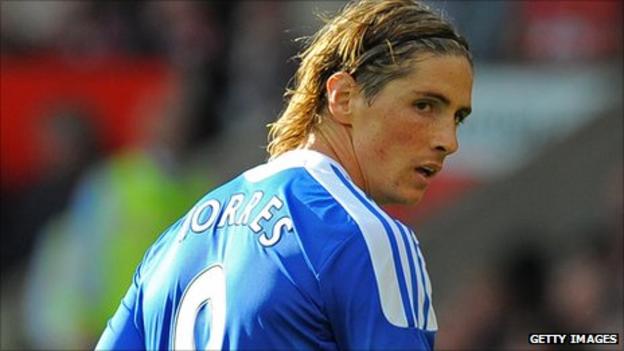 Captain Garry Monk has said Swansea cannot dismiss the threat of Chelsea striker Fernando Torres for Saturday's visit at Stamford Bridge.
The under-fire Spanish striker, a £50m signing from Liverpool, was guilty of missing an open goal in Chelsea's 3-1 defeat at Manchester United on Sunday.
"He's obviously getting a bit of bad press right now and his confidence is a little bit low," said centre-back Monk.
"But at the end of the day you're not worth that money for no reason."
Chelsea manager Andre Villas-Boas defended Torres, whose glaring miss at Old Trafford came shortly after he had celebrated his first goal of the season.
Swansea face Chelsea after securing their first Premier League win of the season against West Brom last Saturday.
And having lost at Manchester City and Arsenal in their previous away matches, Monk expects another tough examination at Stamford Bridge.
"For us to get anything there we are going to have to be right on our game and hope that Chelsea have a slightly off day," Monk told BBC Radio Wales Sport.
"But anything's possible. If we're anywhere near our best we can give anyone a good game and hopefully we'll be at our best on Saturday.
"All across their team [they have] fantastic players and against anyone in the top six in this league you are up against it.
"These are the games you want to play in and play against these sorts of players.
"You're used to watching them on TV now you get a chance to play against them and that's what we've been working so hard for."
Monk made his first appearance of the season in the victory over West Brom having been hampered by a foot injury prior to the new campaign.
"It was nice to get out there. It's well documented that I've been probably the most frustrated person at the club, not being able to be involved at all," Monk said.
"To come straight back in and getting an important victory for ourselves and be part of all of that, obviously on a day where it meant so much, was perfect."
In securing a 3-0 victory over West Brom at the Liberty Stadium, Swansea ended a six-hour wait for a Premier League goal, but Monk denied the lack of goals had become an issue.
"We were confident we were going to get goals sooner or later and thankfully Saturday was the day," said Monk, who played for Southampton in the Premier League.
"Obviously if it went on any longer you would tend to think if it's ever going to happen.
"If we weren't creating any chances whatsoever we would have been worried.
"But even in the Manchester City game we should have scored. With a little bit more luck we would have had goals in every single game. "