Tshosane and BFA at loggerheads over new contract
Last updated on .From the section Football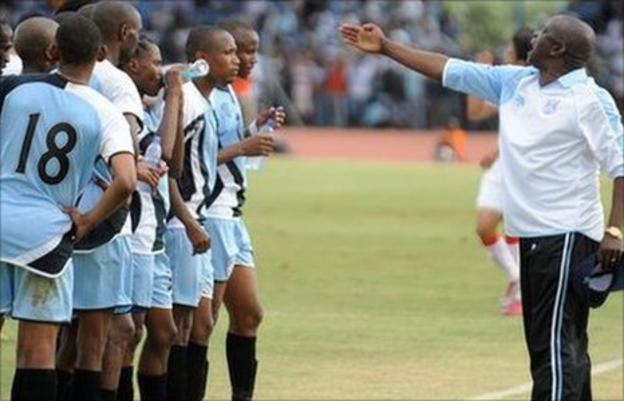 A contract row is threatening to demoralise Botswana's preparations for their maiden Africa Cup of Nations.
The BFA believes that talks will hinder Tshosane's planning for January's finals in Equatorial Guinea and Gabon.
"It's a bit unfair for them to say that negotiating for a new contract will distract me," the coach told BBC Sport.
"I don't think they should think for me. The BFA should come forward and table their offer if they are interested in extending the contract."
Tshosane's current contract ends in March 2012 but some within the national squad had expected he would receive an extension in light of his successful spell.
"I am wondering why they are not offering him a new contract when he has done well for the team," veteran Dipsy Selolwane told BBC Sport.
"He needs to be supported and needs to be given the best opportunity to do well.
"They should give him another contract - because no other Botswana coach, whether local or foreign, has ever done this well."
The hosts aside, Botswana were the first team to book their place at the 2012 Nations Cup in Equatorial Guinea and Gabon.
The southern Africans won five of their opening six Group K qualifiers, while drawing one, to secure their debut appearance at the continent's showpiece football event.
Two teams were guaranteed qualification from the group since it was the only one to include five teams - after Togo's belated entry to a group including Malawi, Tunisia and Chad.
And although Botswana have qualified when ten finals sports are still up for grabs, the BFA are refusing to begin talks with their coach.
"The most important thing right now is to focus on the preparations for the Nations Cup," acting BFA chief executive Sonnboy Sethibe told BBC Sport.
"Opening negotiations at this stage may distract the coach ahead of the finals. So I think we'll conclude the issue after the Nations Cup."
The 2012 Nations Cup opens on 21 January in Equatorial Guinea, with the final in Gabon on 12 February.