Fenerbahce only allowed to admit women and children
Last updated on .From the section Football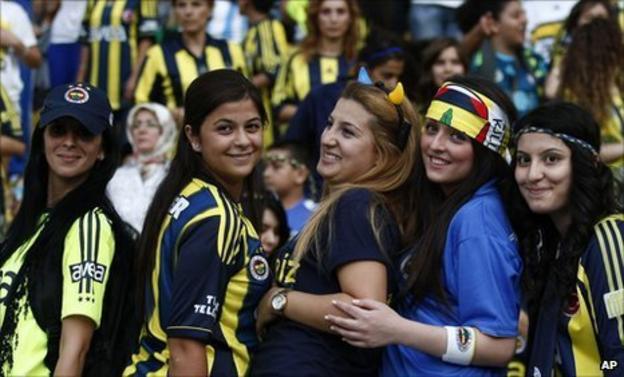 The Turkish football association has come up with a radical solution for tackling hooliganism - by banning men from stadiums.
Teams sanctioned for unruly behaviour by fans are instead only allowed to admit women and children aged under 12 to watch games.
On Tuesday, more than 41,000 women and children attended Fenerbahce's match against Manisaspor in Istanbul.
The move followed violence during a Fenerbahce "friendly" in July.
The Istanbul side was initially told to play two home matches behind closed doors after fans invaded the pitch during a game with the Ukrainian champions Shakhtar Donetsk.
But the Turkish authorities later softened their stance and decided to let women and children attend.
Fenerbahce's 1-1 draw with Manisapor kicked off after players from both teams hurled flowers at the fans, while the visitors were greeted with applause instead of the more customary loud jeers.
The home side's captain, Alex de Sousa, said: "This memory will stay with me forever. It's not always that you see so many women and children in one game."
"We have to thank the ladies for coming to support us," his team-mate Joseph Yobo - on loan from Everton - told Lig TV. "It's difficult playing without the fans."
Manisaspor midfielder Omer Aysan agreed: "It was such a fun and pleasant atmosphere."
Before the game, fans were searched by all-women police officers.
Speaking before the match, Yasemin Mercil, a female member of Fenerbahce's executive board, said: "This really is a historic day.
"For the first time in the world, only women and children will watch a game. The women know all the chants. The same anthems, the same chants will be sung."