Owen Hargreaves' Manchester City return an 'important' step
Last updated on .From the section Football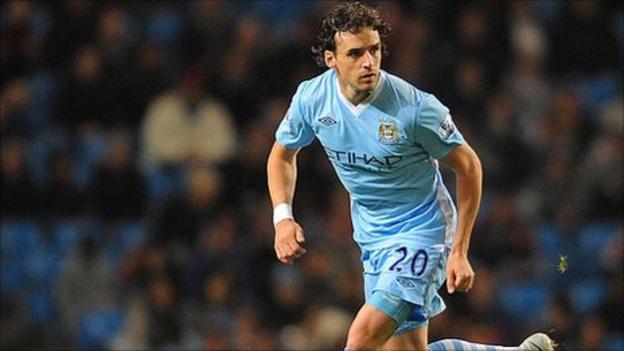 Owen Hargreaves has spoken of his determination to finally put his nightmare run of injuries behind him.
Hargreaves said: "I never would have anticipated [the injuries] in my worst nightmares - it was pretty humbling."
And, after being released by Manchester United, he said it was "essential" for him to "get a change of scenery".
The midfielder crossed the Manchester divide in August after United let him go following just six minutes of first-team football in three years.
And, after an impressive display capped by that fine goal which instantly endeared him to City fans, Hargreaves said: "I feel good.
"It's my first real game action in, I think, three years and four months - which is a bit frightening in itself. [But] I put in a lot of hard work in the summer.
"I've been here three weeks and played two games in six days. We did an in-house game last week, last Thursday.
"They [the medical team at City] have done a great job so far, just easing me in and this is an important progression. Football work is more intensive than individual training [but] whatever these guys think is good going forward.
"It's important to get back into a team situation on a big pitch. Just getting used to basic things you do in the game.
"All in all it was a great exercise for me."
Hargreaves' goal at Etihad Stadium led fans at his new club to chant "Fergie, sign him up", just as they did when Carlos Tevez quit United for City two years ago.
The goal was Hargreaves' first since April 2008 against Arsenal, and although it was anticipated he would be replaced at the break, the former Bayern Munich and England midfielder lasted for another 12 minutes before departing to a standing ovation.
It marked a stunning turnaround for a player who, in his battle to find a club this summer after being released from Old Trafford, demonstrated his fitness by posting a Youtube video of himself.
Hargreaves said he always knew he would return.
"I knew [this day] would come again," he said. "At times it was a very difficult position to be in, when it's happening to you.
"There were so many games I was hoping to be a part of. World Cups. European Championships. It just never materialised.
"[But] I was never afraid of a challenge. I've been training very hard."
City boss Roberto Mancini was delighted with Hargreaves's contribution, saying: "I'm really happy for him. He started tonight, played 60 minutes and scored a fantastic goal."
Asked whether the 30-year-old could go on to be a regular in the Manchester City side this season, the Italian added: "Yes, it's possible. But this was his first game after two years.
"We need to be calm. He needs some time to recover. But I hope he'll be lucky in the future, with us, because he's a good guy."