Swindon boss Paolo di Canio would consider Bodin offer
Last updated on .From the section Football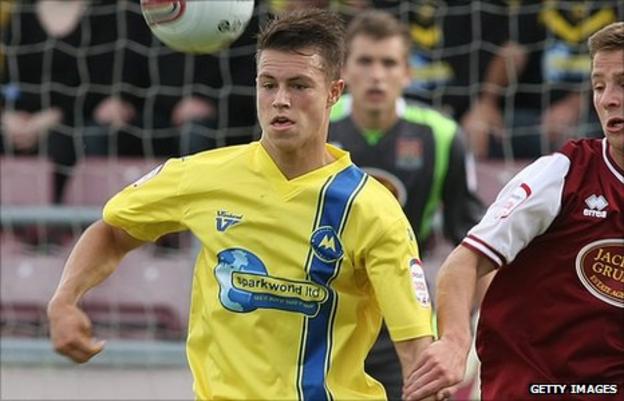 Swindon Town boss Paolo di Canio says he would be willing to sell striker Billy Bodin to Torquay United.
Gulls boss Martin Ling told BBC Radio Devon he would be interested in keeping on-loan Bodin, 19, at the club on a long-term basis.
"If he comes back and says 'I want to stay there' then we will discuss the price," Di Canio told BBC Wiltshire.
"I'd love to keep him here longer term but there's an awful lot of water to pass under the bridge," Ling said.
Wales Under-21 international Bodin joined Torquay on loan last month from Swindon Town, and is due to return to the Robins on 8 January.
And Di Canio says he would be happy to discuss Bodin's transfer with the Gulls.
"We'll get good money because he's young and a talent. Once Torquay come to us we will discuss the price and see if it can go through," he said.
Bodin has scored in Torquay's last two matches against Rotherham and Cheltenham and has started the the Plainmoor club's last four matches.
"When I brought him here I thought he'd be a good signing for us, which he has proven to be. Anyone who sees him knows that he's a talent," Ling said.
"Maybe he's gone under the radar a little bit at Swindon but I think we've put him to the fore and I imagine we're making him a better product for himself, for Swindon and for us."
And while Di Canio says he would be happy for Bodin to move on, he would still welcome him back at the County Ground should he choose to stay.
"I hope he keeps going and scores goals because it means when he comes back I would like to have him here.
"It's better for him to get experience and we are happy because when he comes back he will have more games in this league and I can have a different picture on him."