Everton punch above weight

By Alan Hansen
BBC's Match of the Day football pundit
Last updated on .From the section Football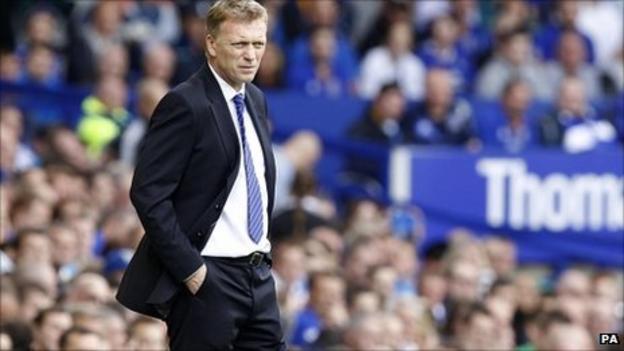 Manchester City's game with Everton on Saturday is a battle between the Premier League's "haves" and "have nots", a meeting of contrasts between a club and a manager with riches almost beyond compare in football terms and another with no cash at their disposal.
Everton have made a habit of getting under City's skin in recent years and have a fine record on their visits to what is now Etihad Stadium.
It will be tough for them to maintain that sequence but you know David Moyes and his players will fancy their chances.
Moyes and his City counterpart Roberto Mancini are both dealing with different kind of pressures, but I know which type is preferable.
Mancini is accompanied by huge expectation because of the money he is able to spend, but the big advantage is that it is all in his hands.
He has the money to compete for the world's best players and if one signing doesn't work out he can always buy someone else.
Moyes does not have money and yet, perfectly understandably given their history, Everton and their supporters still have certain expectations of their own.
They expect to be in the top 10 at least and pushing towards the top six. And yet Moyes has to meet these demands without cash to bring in big names or to work the markets.
If, say, Wigan simply stay up with no money then Roberto Martinez is a genius. Moyes has to work within that same financial framework and keep Everton well inside that top 10.
The fact that he does it pretty much every season is a measure of his quality as a manager.
The problem is that supporters - and this is their right as they pay their money, back the club and always turn up in their numbers at Goodison Park - want to see new blood and fresh faces.
Moyes has tried, even when losing players such as Mikel Arteta, to get right back to basics and foster a team spirit that says "we're all in this together".
This is the message you regularly hear from his team, including Tim Cahill recently.
It is obvious how important having big money is in achieving success in the Premier League, and in the Champions League if you qualify. If the financial part is missing from the equation it makes life difficult.
Moyes, however, has managed to build a team that is capable of beating the best.
Everton were incredibly inconsistent last season, producing football that was very good at times and very poor at others.
The highs of home victories against the likes of Liverpool, Spurs, City and Chelsea are at least some consolation. Of course Everton want to win trophies, and rightly so, but Moyes has produced a lot of highs in terms of performances and their life is not total doom and gloom.
If Everton's existence was simply a dull flatlining then there would be problems, but he has got a team that can be a match for pretty well everyone on their day.
Of course Moyes is an ambitious manager and the worry for Everton is if he starts to feel he has come to a standstill.
If a club were to offer him the chance to win trophies or reach the top four on a regular basis then there is the danger of him going elsewhere, but that is not happening at the moment and he seems happy at Goodison Park.
I must admit it does seem strange that no-one has come in to invest in Everton.
You are talking about a fabulous club with passionate supporters and rich history and tradition but you don't hear any rumours at all about an individual, or even a consortium, coming in.
Manchester City have no such difficulties and their infrastructure and influence is increasing. You only have to look at the plans for a magnificent new training complex and academy, announced this week.
Mancini's side have been very impressive this season until the last 30 minutes at Fulham on Sunday.
They have moved away from the over-cautious approach that sometimes let them down, although it was a worry that they stopped competing, stopped playing and retreated to the 18-yard line in the closing stages against Fulham.
City have signed a wonderful player in Sergio Aguero. They have a system with two holding players that has worked away from home and on their own territory they have been going for the throat.
There will be no alarm bells ringing after a bad half-hour, but the sign of their progression as a team will come if they do experience a bad spell. How will they react? Will they ensure that it is only a blip? This will be the test but you have to say the signs are good.
I fully expect City to be challenging for the title and the good news is that it's coming, even if it is not this season. These are exciting time for the club.
Everton's financial future is not so certain, their resources not so lavish - but this just adds another layor of intrigue to events on Saturday lunchtime.
Alan Hansen was speaking to BBC Sport's Phil McNulty