Blackpool midfielder Keith Southern agrees new contract
Last updated on .From the section Football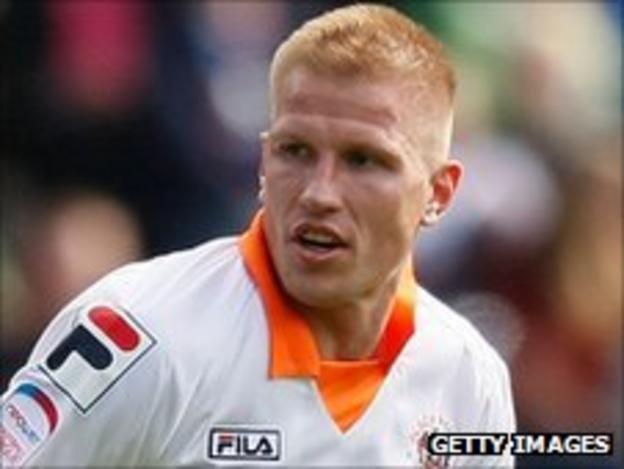 Blackpool midfielder Keith Southern has become the latest Seasiders player to agree a new one-year deal, with the option of a further year.
The 30-year-old, who arrived from Everton in 2002, follows the lead of striker Gary Taylor-Fletcher, who signed a new deal on Tuesday.
"The club's moved on leaps and bounds over the last couple of years," Southern told BBC Radio Lancashire.
"It's been dragged over a few weeks but thankfully it's sorted now," he added.
"It's never been a money issue for me. I never wanted to leave the club.
"I've seen it through its worst times as well as its best. I'm not one who likes to kiss his badge but I think I've proved my loyalty over the last few years.
"I moved from home when I was 16 and it's not the easiest thing to do when you're an adult. But, when you're a young boy it's exceptionally hard, so I didn't want to move again.
"My wife's settled in Liverpool where we live and my little one is about to start school in the next couple of years.
"Blackpool's where I enjoy my football, so that's why I wanted to stay."
Southern has also been promised a testimonial, news of which the Gateshead-born player admits came out of the blue.
"I needed to get some advice on it first and foremost because, when our chairman Karl Oyston originally mentioned it to me, I didn't know anything about the plan.
"Over the last few days I've had advice from the Professional Footballers' Association about what and what not to do, and now Karl's going to give me a game at the end of the season.
"I haven't spoken to any potential opponents yet, so it's still up in the air, but I've got a few ideas running through my head and in an ideal world I'd love it to be Everton."