Mozambique cancel contract of Dutch coach Nooij
Last updated on .From the section Football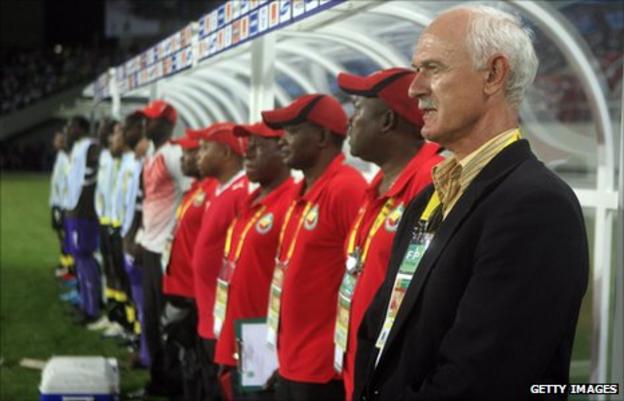 Mart Nooij has returned to the Netherlands after his contract with Mozambique came to a close.
The Dutchman's contract with the Mozambican federation (FMF) had been dependent upon qualifying the Mambas for the 2012 Africa Cup of Nations.
However, the southern Africans can no longer qualify from Group C - after this month's 1-0 defeat to Libya.
"After Libya, I knew it was practically over," Nooij told BBC Sport.
"I am very grateful to Mozambique, and I will return a friend."
The Dutchman had two different spells with the Mambas over a period totally nearly five years.
He qualified the country for only their fourth Nations Cup, and first since 1998, when reaching the 2010 finals.
Nooij's contract was not renewed after the Mambas failed to exit their group in Angola, leaving David Nascimento to take charge.
But in July 2010, the Dutchman - who had previously worked with his European FA as a training instructor - could not resist a return to Maputo.
"I went back for the public and the players," recalls the former coach of Burkina Faso's Under-20 team.
"I had a nice time in Mozambique and the public is still happy with me: I have no regrets."
Nooij's last action was to oversee the hosts at the recent All Africa Games, although Mozambique failed to win a game from a difficult group involving Ghana and South Africa.
However, Nooij feels as though he has left a legacy for the future.
"Half the team that played so well against Ghana (losing 4-3) in the All Africa Games can get into the national team," he said.
"And beating Ghana 3-1 in the second half is no mean feat."
Mozambique will need to appoint a coach quickly if they are to have a man in charge for their final Nations Cup qualifier at home to Comoros next month.
The Mambas have four points in the group, seven less than group leaders Zambia.