Andrew Taylor and Stephen McPhail out for two weeks
Last updated on .From the section Football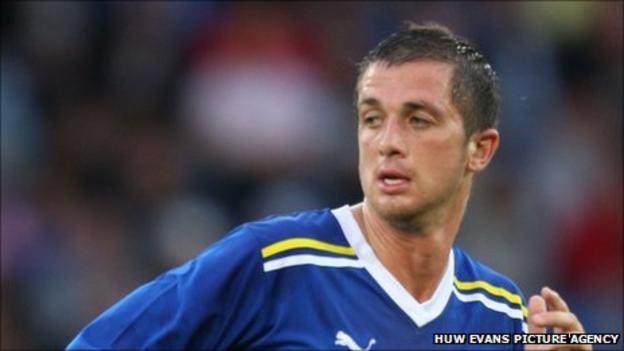 Cardiff City pair Andrew Taylor and Stephen McPhail are out with injuries over the next fortnight.
"He [Taylor] has got a slight nick in his hamstring so we reckon he's going to be a couple of weeks," said manager Malky Mackay.
"Sometimes it can be cramp but by yesterday we knew that wasn't the case."
The two players will miss Cardiff's Championship clash against Leicester City on Sunday.
Mackay is just thankful it was not anything more serious in each players' cases.
"We are disappointed by that. It could have been worse, could have been a bigger problem than it was and could have taken six weeks," he added
McPhail lasted just 29 minutes before picking up an injury and was replaced by Aron Gunnarsson to a standing ovation.
It is another setback for the central midfielder who has been sidelined with health problems.
McPhail, who is in remission from a stage one lymphoma, has also been suffering from the side effects of Sjogren's Syndrome.
But MacKay is just relieved his latest problem will only be a minor setback.
"It's not as serious as it could have been and he will be a couple of weeks," revealed the manager.
"It was great to get him back in and we spoke this week in terms of him being a new signing.
"These things are sent to test you and he's had plenty of tests in the last 18 months but this is nothing compared to 90 per cent of what he has gone through."