Dean Saunders' exit understandable say Wrexham legends
Last updated on .From the section Football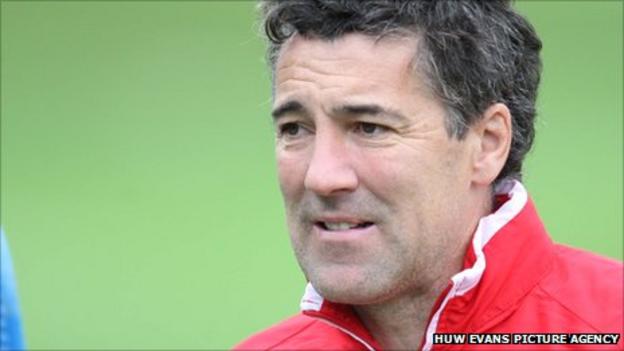 Wrexham legends Mickey Thomas and Dixie McNeil claim prolonged negotiations for the club prompted the departure of manager Dean Saunders to Doncaster.
Wrexham's future has been in the balance since owners Geoff Moss and Ian Roberts invited offers in January.
Saunders' move to Doncaster comes with Wrexham Supporters Trust's purchase of the club yet to be finalised.
"He's not sure what direction it's going to go," said Thomas. "You can't blame him for going to Doncaster."
Former Liverpool and Aston Villa striker Saunders has been appointed new manager of Championship side Doncaster after three years at the Racecourse with Andy Morrell taking temporary charge.
Saunders was in charge during a turbulent time at Wrexham, who were relegated from the Football League at the end of the 2007/08 season, but are now joint top of their division.
After a number of consortia failed in their attempts to purchase the club, Wrexham Supporters' Trust agreed in principle to take over.
However in a statement issued on Friday the club's directors appeared to suggest there were key points to be resolved before a deal could be concluded.
Saunders had said on the eve of the new season he was frustrated the deal had not been completed which had left him in "limbo."
And in August Saunders voiced his disappointment after a leaked email between two members of the trust board suggested he could quit or threaten to resign from the club.
After news of Saunders' departure emerged, the trust said they were not informed he was to leave. They said they had previously held talks with him and made it clear they had been happy for the former Wales international to continue.
"We've made it absolutely crystal clear Dean was our choice as Wrexham manager," said trust board member Spencer Harris.
"In terms of the future for Wrexham Football Club we are absolutely confident it's got a bright future and we believe Dean could see a progressive and bright future under fans' ownership.
"We're very sorry to see Dean leaving. He's had an excellent start to the season... if there's a positive to come out of this we're in good shape after 10 games of the season."
Harris revealed to BBC Wales that a sale and purchase agreement was submitted to the current directors of the club on Thursday.
"We're awaiting a response so hopefully thing are looking positive on that front," added Harris. "Hopefully that can move forward very quickly."
But former player Mickey Thomas believes delays over the ownership of Wrexham ultimately led to Saunders departing.
"There's no closure on that yet and that is a concern for Dean Saunders," said Thomas, who spent two spells with the club.
"Obviously what's gone at Wrexham the last few years hasn't been healthy.
"He's done a great job at Wrexham considering all the problems. He got them in the play-offs last year and [they are] joint top now.
"I know the type of work he's done behind the scenes. I've watched him work and it's incredible how he's kept the club alive."
"He's got an opportunity now to manage in the Championship."
McNeil, Wrexham's manager between 1985 and 1989, says the former Wales international had become frustrated with the current situation.
"I spoke to him when they played at Lincoln [and] he was very disappointed that the deal with the trust had not gone through," said McNeil.
"I think he was frustrated more than anything. I don't think he felt he knew where he was going, whether he could bring players in.
"I think he didn't feel he was getting any response from anyone. I think frustration at the end of the day has got the better of it."