Wrexham FC takeover delayed further
Last updated on .From the section Football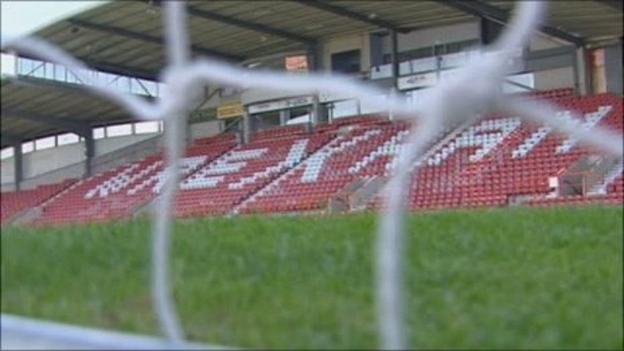 A takeover of Wrexham Football Club by the Supporters Trust has been delayed after club owners insisted changes in the sale agreement were "unacceptable".
The WST now has an ultimatum of paying a non-refundable deposit by Monday or the club will seek alternative bidders.
The WST claims delays "rested with the club and disclosure of information".
Wrexham owners Geoff Moss and Ian Roberts put the Blue Square Bet Premier club up for sale in January and later revealed that the Welsh club had "run out of money".
The WST is the preferred bidder and the fans' board has been in negotiations with the club for the past four months.
A joint Wrexham FC and WST statement earlier this month admitted that the deal had "largely been agreed in principle" but it missed an initial 16 September deadline.
But both parties have released statements highlighting that the future of the famous 139-year-old club still remains uncertain.
"The current owners, as willing sellers, yesterday received a draft copy of a revised sale purchase agreement," read the Wrexham statement.
"Within which it appears that some of the pre-agreed points have changed, with some changes appearing to be totally unreasonable and unacceptable.
"There will obviously be a further delay in the takeover and we are certain that these delays have influenced Dean Saunders in his decision to leave his role of manager... as his position had become an unmanageable one.
"After the injection of the promised half-a-million pounds from the current owners, the club is in a much healthier financial position.
"The PAYE is up to date. The difference between creditors and debtors is only £10k. However, the cash flow of the business is still poor, which is why the continued delays will cause an even greater financial strain on the business.
"If this bid had been anything other than a fan-based takeover it would have been dismissed as unacceptable some time ago.
"It is the intention of the current directors to request a non-refundable deposit by 1700 BST on Monday, 26 September to allow negotiations to continue.
"However, should this not be realised then there will be no alternative but to open further discussions with other interested parties."
Members of the trust voted unanimously to back plans to take control of Wrexham FC in August.
And the WST admits its "revised draft" of an asset purchase agreement contained "some amendments arising from due diligence".
"It had been anticipated that these matters would be quickly resolved in the ordinary course of negotiations," read a WST statement.
"As a part of the SPA [Sale Purchase Agreement], the board of WST has offered a secured loan to the club directors to support the cash flow position of the club.
"The Trust Board has not changed its position in negotiations, and merely seeks to ensure the viability of the club going forward in the light of information arising from due diligence."