Aberdeen manager Craig Brown wants fewer mistakes
Last updated on .From the section Football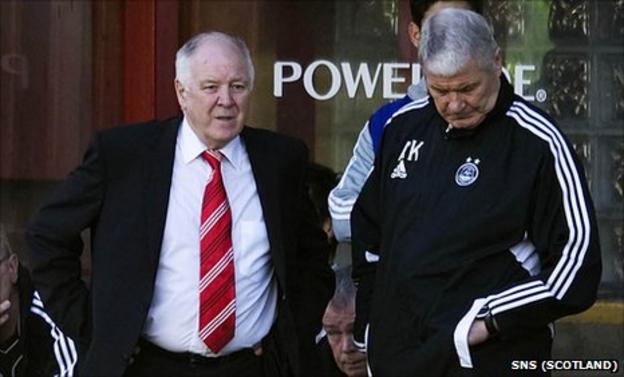 Aberdeen manager lamented the loss of a "soft goal" in his side's 1-0 defeat to Motherwell at Fir Park.
Bob McHugh scored 'Well's late winner and Brown said: "We had a corner kick, they broke away. One of our players made an error and it was punished.
"We've got to eliminate these mistakes and if we do, we won't lose games and then if we start scoring goals, we'll win games.
"I didn't think we deserved to win the game but we didn't deserve to lose it."
The result leaves Aberdeen a point above Scottish Premier League bottom club Inverness.
"We were desperately disappointed that we should show a serious lapse at the end to conced a soft goal because in terms of defending, the back four did exceptionally well, I don't think I could fault any of the defenders," said Brown.
"But there was a mistake made, which cost a goal and cost us the point that I thought we deserved.
"Motherwell got a fine goal from Bob McHugh and we've just got to give them credit for that.
"We didn't create enough openings. We have a problem with striking, I think that's pretty obvious. We've tried every possible combination since the start of the season and yet we can't score.
"Hopefully it will turn. The creating's not too bad but the finishing's been poor, the finishing's not perfect. We're very solid from back to middle but from middle to front, we're not doing enough."
The Dons have won only once this season and exited the Scottish Communities League Cup at the hands of Second Division East Fife on Tuesday.
"I have definite confidence that we can turn it round," added Brown.
"We can do what we did when we came last year and get onto a run. We just need a break.
"It's a very tough time for the fans of Aberdeen, who are obviously getting a bit concerned. The players are concerned, we're concerned but we're fighters and I've seen it before and I know that there's enough within the club to ensure that we get onto a winning run.
"I enjoy working with the team. I'm privileged to be with a superb football club and I'm determined to do my very best for this football club.
"They've got justification for these doubts, I have confidence that we can get this team sorted and get it on the road. Otherwise I would say, 'no, this is not for me'."