Swansea City's Ashley Williams left frustrated by Chelsea loss
Last updated on .From the section Football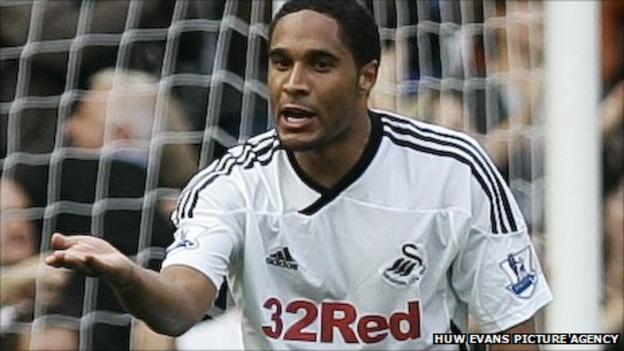 Defender Ashley Williams has said there are lessons to be learned following Swansea's 4-1 defeat at Chelsea.
Defeat at Stamford Bridge means Brendan Rodgers' side are still looking for their first Premier League away win.
And despite scoring Swansea's first away goal in the league, Williams was disappointed with his side's performance.
"We can use it as a lesson and I'm sure it will be good for us going forward," he said
"We can't get rid of our frustrating feeling of [being] a little bit disappointed with our performance as a team.
"What we're disappointed [with] is we didn't feel like we've played like we have been recently.
"We'll address it and we'll move on and go to work again in the week."
Chelsea were leading 2-0 at the interval thanks to goals from Fernando Torres and Ramires, although they had been reduced to ten men when Torres was shown a straight red for a rash challenge on Mark Gower.
And with the home side a man short, Swansea started the second half strongly with Nathan Dyer's deflected effort hitting the crossbar.
"[In the] second half we did really well," said Williams. "You might say they had 10 men and were two goals up but it's still a game.
"We caused them problems second half and there's a lot of things we can take from the game.
"We wanted to go out there and make an impression [and] I think we did that. There were positives from the game.
"It's a tough place to come but I think we got good experience from the game today and we can learn a lot from that team and the players in the team.
"We've done well this season so we're not going to beat ourselves up about it.
"We haven't won away from home yet but if you look at the three teams we've played probably no one would have thought we would have."
Williams' 86th minute header was merely a consolation after Ramires had scored a third Chelsea goal and before substitute Didier Drogba wrapped up victory with a fourth in stoppage-time.
"For me personally it's quite nice to score a goal. It's something I will remember," said the former Stockport County player.
"I'd change it for a win obviously. We're disappointed with the result and parts of our performance. We'll go away disappointed.
"There are world class players out there, some of the best players in the whole world, so it's going to be tough."
In contrast to their away form, the Swans have not lost or conceded a goal at the Liberty Stadium this season and beat West Brom 3-0 in their last home game.
Stoke at home next Sunday is Swansea's next fixture, opposition Williams acknowledges who will be a different challenge than they faced at Chelsea.
"That's the beauty of the Premier League, every game is different," added Williams.
"We'll have to do our work with Stoke and we'll prepare for a totally different team.
"We want to keep clean sheets at home and win games and we'll build on the West Brom home game.
"We're looking to win that game as we do every game.
"Since I've been at Swansea we've been a strong home team. We've just got to keep looking after our home form and pick up points on the road."