Armed police quell Brazilian fans' fury after late penalty
Last updated on .From the section Football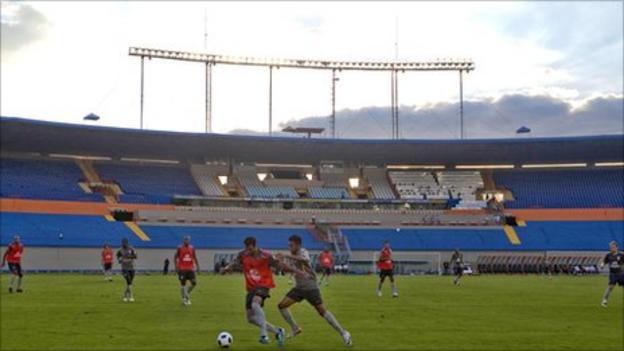 Police have used rifles to ward off furious supporters after a Brazilian championship match ended in chaos.
The trouble began when the referee awarded a controversial stoppage-time penalty, that Fluminense converted, to earn a 1-1 draw at Atletico Paranaense.
Dozens of Atletico fans gathered around the tunnel at the Arena da Baixada, one of the 12 venues that will be used at the 2014 World Cup, preventing the referee and his fellow officials from leaving the pitch for five minutes.
A police official on the pitch pointed a rifle towards the fans and the Brazilian media reported that rubber bullets were fired.
Police eventually went into the stands to disperse the crowd and the officials were escorted under the protection of officers wieding riot shields.
Atletico, who missed a first-half penalty, went ahead after the break through Paulo Baier's goal.
But Fluminense were awarded a spot-kick after Lanzini went down in the penalty box - television replays suggested he dived - and former Lyon striker Fred scored.
There was also trouble at Cruzeiro where around 250 fans surrounded players' cars to protest against recent results.