Everton 'can't compete without new stadium'
Last updated on .From the section Football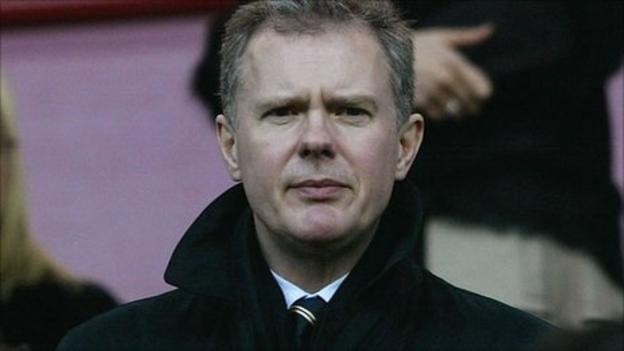 Former Everton chief executive Trevor Birch has said the club will never compete at the very top of the Premier League unless they build a new stadium.
Birch said manager David Moyes was performing "nothing short of a miracle" with limited finances.
He pointed to Everton's £20m matchday revenue over a season compared to Manchester United's £100m.
"He is armed for hand-to-hand conflict and he is competing against armoured artillery", Birch said.
Earlier this month fans who felt Everton were stagnating under chairman Bill Kenwright held a protest match.
Kenwright has often stated his desire to bring new investors into the club and admitted last month that the Toffees could not borrow any more money.
Last year Everton said they were still considering building a new stadium, or redeveloping Goodison Park after plans for a £400m stadium in Kirkby were rejected.
Birch, who is now head of restructuring and insolvency at accountants PKF, told BBC Radio 5 Live's Sportsweek programme: "They simply cannot generate sufficient revenue when Man Utd are earning £3m a game and Everton £500-700k.
"The gulf is just too great for them to compete.
"When someone looks at Everton and says they want to buy [the club] the first thing they have to do is look at building that stadium. A stadium costs £300-£400m. Who is going to make that investment?
"Basically they are buying a club that has incurred losses of £30m over the last five years. So you are not going to make any money and have to build a stadium."
Birch, a former Liverpool player who was also chief executive at Leeds, Chelsea, Derby and Sheffield United, added: "Those clubs with great stability, which Everton have, with the younger players coming through, you could look with enthusiasm to the future.
"But what they won't do is ever compete for the league title again in the short term."
When Birch left Everton is 2004 after a six-week spell in charge it was reported that he perceived a lack of boardroom support for some of his proposals, including looking for new owners.