Hearts manager Paulo Sergio blames childlike mistakes
Last updated on .From the section Football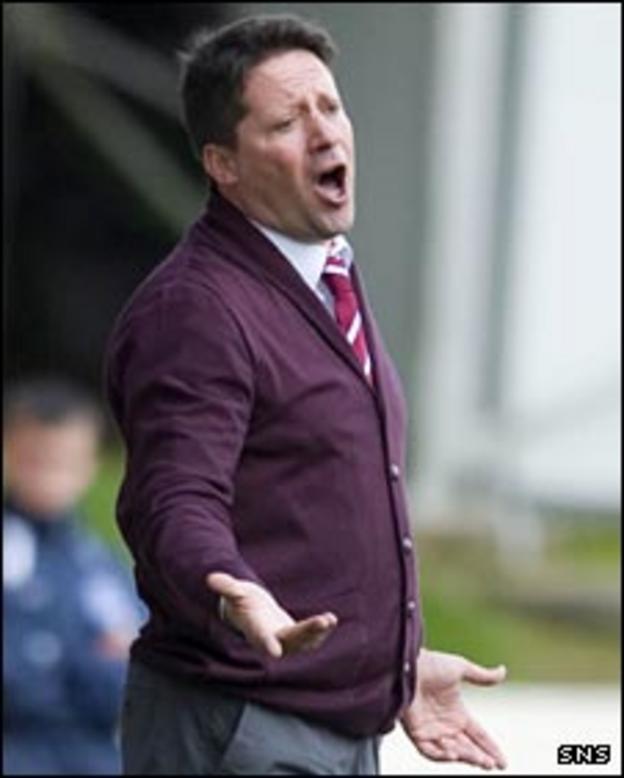 Hearts manager Paulo Sergio has threatened more changes if his players do not learn from the childish mistakes he believes are undermining his side.
"We are creating our own problems," he told BBC Scotland after the 2-0 defeat away to St Johnstone.
"We have to keep working hard and someone doesn't understand, we have to change.
"Those mistakes we are doing are things kids shouldn't do. Some players are making the same mistakes."
Sergio took Andy Webster off at half-time and put Adrian Mrowiec back at centre-half but admitted that the Scotland defender had not been withdrawn became of injury.
"I didn't find he was very well in the game," added Sergio.
"I put Adrian in that position to have a more technical midfield. It was just tactical."
Sergio thought that his team had the bulk of the game, which was won by goals in each half by Cillian Sheridan.
"We should do a lot better, but we can't keep giving chances for the other side," said the Hearts manager.
"We had control of the game from the start and our opponent, with their strategy of playing long balls to the two big strikers, we were defending well against it.
"My goalkeeper did not make a save in the whole game and we have probably more than 60 per cent possession and control of the game, but we are giving chances to the other side.
"It was the same against Inverness and twice here it was our mistakes."