Swansea still adjusting to Premier League, says Mark Gower
Last updated on .From the section Football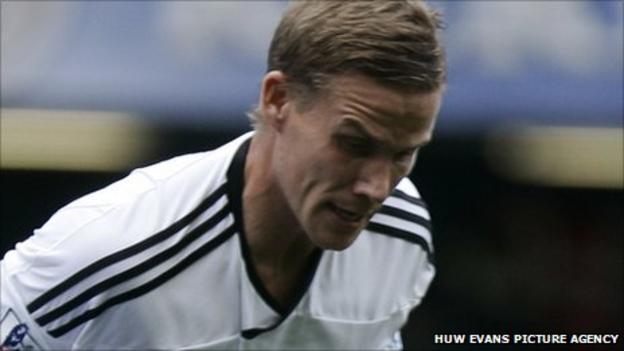 Midfielder Mark Gower has admitted Swansea City are still finding their feet as a Premier League side.
Swansea have lost all three away matches so far this season with their latest defeat a 4-1 reverse at Chelsea.
But Gower believes the Swans are learning from every game they play in the top flight.
"Obviously we're in a new league so we don't know the players that well. We're going to be learning every week," he said.
"Hopefully, we're quick learners because we're not going to have much time. We need to hit the ground running. By and large we have done.
"The first three away games have been really tough for us but they're not going to be that tough every week.
"I'm sure we'll get more positive results when we go to the lesser sides in the division."
Despite defeat at Stamford Bridge, Swansea scored their first away goal in the Premier League with Ashley Williams finding the target with a header following Gower's free-kick with four minutes remaining.
And Gower believes the goal will give the Swans some much needed confidence when they approach future away matches.
"Although in the context of the game it wasn't important I think for self belief we've come to Stamford Bridge and scored a goal," added Gower.
"It will stand us in good stead for our future away games."
Midfielder Gower was at the receiving end of the tackle which led to Chelsea striker Fernando Torres receiving a straight red card on 39 minutes.
And the former Southend player was relieved he escaped any serious injury following the Spaniard's rash challenge.
"He just caught me," said Gower. "[It was] not a nice tackle but I managed to get out of the way as well as I could.
"You'll have to ask him why he's done that but I managed to get most of my body out of the way. Unfortunately he caught me a little bit but I'll be alright, it's just a graze.
"I think if you asked him he will agree he deserved to be sent off."
Next up is a home fixture against Stoke City on Sunday and Gower says the Swans will be looking to maintain their unbeaten record at the Liberty Stadium.
"It's one we've got to be up for," said Gower. "Our home form this year is going to be vital for us and we'll be looking to get three points.
"Our home form was great last year and we're a confident team at home. We're undefeated at home and haven't conceded a goal.
"We'll be looking to keep them records come Sunday."
Gower says Stoke are an example of a side who have established themselves as a Premier League club following promotion from the Championship.
The Potters were promoted to the top flight in 2008 and with Welshman Tony Pulis at the helm they are playing in this season's Europa League.
"Tony Pulis has done a fantastic job and they find themselves in Europe now," said Gower.
"They're definitely a role model for certain teams to look up to and try and emulate."