Arsenal's Robin van Persie happy to delay contract talks
Last updated on .From the section Football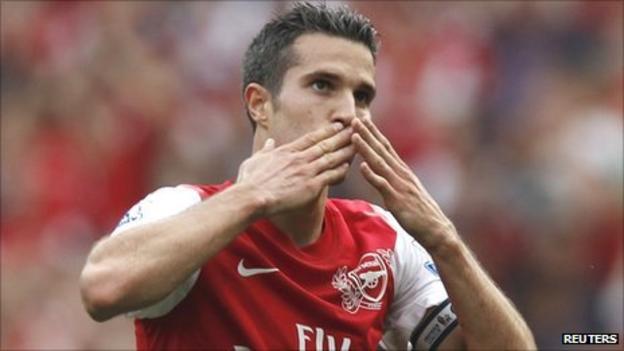 Arsenal striker Robin van Persie says he is in no rush to commit his long-term future to the club.
He is understood to want assurances from boss Arsene Wenger over the club's ambition, following the recent sales of Cesc Fabregas and Samir Nasri.
"I don't think it's clever to do that during the season," Van Persie was quoted as saying in a number of national newspapers.
"I do believe you have to look for a right moment to sit down and speak about your own stuff.
"It's not only about me, it's about the team. We are not talking now because we are so busy - we have games every three or four days.
"I still have almost two years left here, so for the moment that's fine. But I don't know, we will have to look.
"I'm happy with my contract, I'm good. That's how it is, I can't say much more. I can't look into the future."
Should Van Persie stall further over a new contract, Arsenal could be faced with a similar problem to the one posed by Nasri, who refused to extend his Gunners contract beyond he end of this season and was subsequently sold to Manchester City.
Losing Van Persie, who scored his 100th Arsenal goal in Saturday's 3-0 victory over Bolton and is a key player at the Emirates, would be another significant blow to the club.
Wenger has underlined this by explaining to the official Arsenal website his reasons for handing the striker the captain's armband for this season.
"I think he has a combination of leadership on the pitch," said Wenger. "He is technically a super-talent, certainly, and you gain respect from the others. Now he has added the second part, that means speaking his mind. It means you get a kind of credit.
"Robin has matured from the boy who was a little bit emotionally impulsive when he arrived to the guy he is today.
"It was difficult to predict but he is intelligent, he speaks his mind and you can talk to him as well. He takes advice and overall he has developed very well."