Off The Bawl - 26 September 2011
Last updated on .From the section Football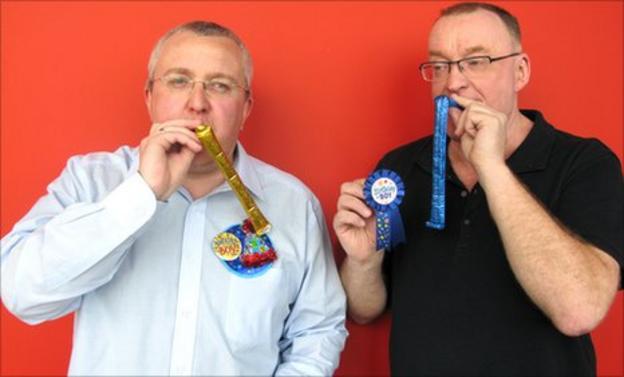 Greeeeeetings!!! Our studio guest on Saturday was Gary Innes - shinty's answer to Kenny Dalglish. Although Iain in Oban said: "Nah, Gary's actually more like Andy Ritchie - hangs about the box all day, waiting to steal the glory."
Right, that's enough about shinty...
In the week that eight-year-old cage-fighters were performing in front of a capacity crowd in Preston, we invited listeners to recall the tough games from a typical Scottish childhood.
On the back of Falkirk, East Fife and Ayr United upsetting the odds in the Scottish Communities League Cup, we looked at Diddy Teams and Giant-Killing.
And our Team of the Week (as a wee tribute to Bairns boss Steven Pressley) was The Elvis XI.
Here's another selection of the most petty and ill-informed emails on radio...
A TOUGH SCOTTISH CHILDHOOD
Kenny in Boston said: "I rememeber growing up in Glasgow and playing fitba' in December on a red ash pitch with a nail brush to clean your wounds. The wee cage-fighters are a bunch of jessies."
Garry in Warrington said: "How about cow-pat fights? Two options - pick up a dry, crusty one and fling it at your opponent. Or the better option - dip a stick into a fresh, sloppy pat and hurl it. Great fun!"
Stevie Burrows in Knightswood said: "We used to play a game in school when the teacher left the room called Mootchy. You basically weren't allowed to say a word until the teacher returned and, if you did, everybody gave you a kicking. There was also Mootchy Freeze where, if you moved a muscle, you got the same treatment."
Alan Stratton said: "I remember growing up in Edinburgh and using Fray Bentos pie lids as frisbees. I'm amazed nobody was decapitated."
Mark in Peterhead said: "Our village had a rubbish dump where we used to split into two teams. There were loads of big grey sheets of stuff that, when broken up, could be launched towards the other team like a cross between a frisbee and a ninja death star. It was only years later we realised we'd been playing with asbestos. Ach well, we're still alive..."
Davie fae Airdrie said: "I used to go shooting rabbits with my mate who had an airgun. We'd also shoot tin cans and I'd sometimes hold up a five-litre cannister in each hand and let my mate use them as target practice. I was too stupid to realise the possible consequences if he missed."
Michael Conway in Renfrew said: "My mate Robert from Gibshill in Greenock was so poor he had no shoes for school. His granny went next-door to a guy who had a club foot and he gave her a spare pair of his shoes. She then chopped the big heels off with a saw and Robert went to school with a pair of hollow shoes!"
Anon said: "In Dalmuir, we used to play chicken by standing in front of an on-coming steam train until the last possible moment."
Marc in Auchinleck said: "Do you think these wee cage-fighters would ever have the bottle for a game of that Off The Ball classic Touch The Dug's *rse?"
No chance, Marc!
DIDDY TEAMS and GIANT-KILLING
Kevin in Dundee said: "Back in 1959, when the mighty Dundee had one of the best teams in Europe, we lost 1-0 in the Scottish Cup to Fraserburgh."
Fi in Edinburgh said: "I remember the year Hibs beat both halves of the Old Firm in the CIS Cup - and then got gubbed in the final by Livingston!"
Eddie Hampton in Dundee said: "Dundee Utd put Barcelona out of Europe - twice - in the 60s and the 80s. How's that for giant-killing?"
Murray in Oldmeldrum said: "I'm a Celtic fan and I recall us getting gubbed by a wee diddy team. In fact, it was just last Sunday..."
TEAM OF THE WEEK
The Elvis XI (aka Wooden Heart of Midlothian)
Stadium: Died On The Boghead
Manager: Moody Blue Macari
Referee: Suspicious Brines
1/ Neville Southall Shook Up
2/ Gary Jailhouse Locke
3/ Any left-back from Perth (Kissin' Cousins)
4/ Tommy Ring Doughnuts (c)
5/ Steve Lovell Me Tender
6/ Albert Kidd Galahad
7/ Colonel Kiegan Parker
8/ Momo Priscilla
9/ Charlie King Creole
10/ Joe Jordanaires
11/ Dixieland Deans
AND FINALLY...
A request went up during the show for a CLEAN limerick about Azerbaijan (aye, you don't get that on Real Radio).
Regular listener Franz duly obliged with the following little ditty...
There once was an Azerbaijani,Who found an auld man with his granny."Get oot of that bed!"But the man turned and said:"A wid if I could, but I cannae."
PS. After someone on the show mentioned "the Gaelic mafia" we got a text from Eddie in Largs that said: "The Gaelic Mafia - they'll make you an offer you cannae pronounce."
To join in the fun on this Saturday's show, call 0500 929500, text 80295 or email offtheball@bbc.co.uk