Fifa urges 'strong penalties' for Zimbabwe match-fixers
By Steve Vickers
BBC Sport, Harare
Last updated on .From the section Football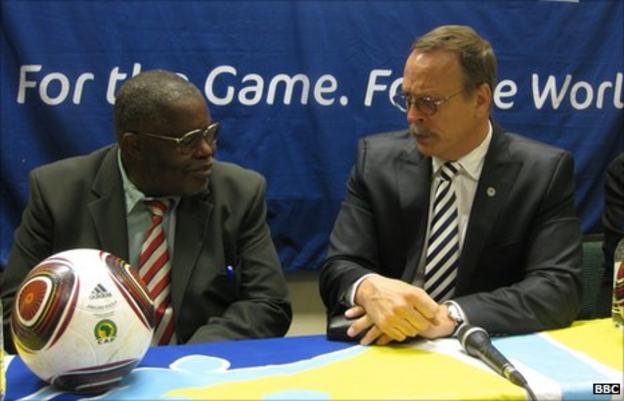 Fifa head of security Chris Eaton has urged Zimbabwe's football authorities to severely punish players and officials found guilty of match-fixing.
"I look forward to good strong penalties that reflect the magnitude of the offences," Eaton said.
"Fifa wants to see consequences that match the offences."
Eaton endorsed the setting up by Zifa of an independent disciplinary committee headed by a retired judge that will issue punishments for football-related offences.
Zifa hopes that the committee will finish its work by the end of the year.
"If the decisions involve a penalty, I will ask the Fifa disciplinary committee to consider making that a global ban," Eaton told BBC Sport.
But he also suggested that there could be leniency for some players.
"There is tolerance of people who've been put in uncompromising circumstances, particularly young players under the influence of senior players.
"And if they come forward with the truth and tell us everything that they know about match-fixing in Zimbabwe then that will be taken into account for their penalty, I'm sure."
Zimbabwe's police will work together with the international police agency Interpol to deal with criminal matters and the anti-corruption commission of Zimbabwe's government will also be involved.
"We discussed many issues and mostly it's about putting in good business practice and taking a professional approach to the management of matches," said Eaton.
"This is a fight and I know who will win - we need to make sure that this will never happen again."