Talks continue over Cheltenham Town racecourse move
Last updated on .From the section Football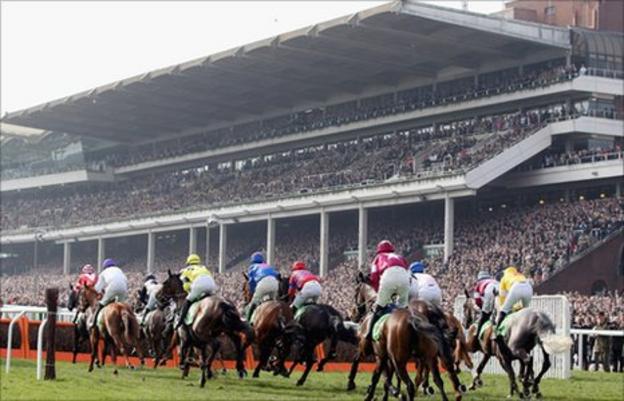 Discussions over a possible new stadium development for Cheltenham football club at the town's famous racecourse are "moving forward".
Directors of both parties have showed interest in a venture and are now looking at the financial implications.
"We meet regularly to try and get this dialogue moving forward," Edward Gillespie, managing director of the racecourse, told BBC Gloucestershire.
"We are developing this in greater detail and getting an idea of cost."
He continued: "We are firming up the the issues that face the football club, the borough council and ourselves.
"The next three or four months would be important. We have so much more information than we had in the summer and are in a better position to make a decision.
"We are still continuing this interesting dialogue."
And Robins chairman Paul Baker confirmed in his programme notes for their game against Hereford on Saturday: "Discussions with the borough council and the racecourse continue but I do believe we are reaching a crucial stage where firm decisions can be and need to be taken."
But he went on to reassure fans that they would not rush into making a decision on a move away from Whaddon Road: "It is an exciting opportunity but the bottom line is that we do not have to move and we will only move if the future security of the football club can be guaranteed."
Since 2008, the racecourse have been investigating ways to reduce the number of temporary tented structures, but with the site greenbelt land they are restricted to the amount of permanent stands they can build.
It is thought the idea of moving the football club to Prestbury Park and sharing a double-sided grandstand might encourage the council to grant permission, because the council owns the Whaddon Road site where the club has a long-term lease.
"It fits on the site extremely well," Gillespie added. "If everything went smoothly in the next three months I think we'd be talking three to five years as the timescale... which is fairly immediate."