Fifa faces acid test in Zimbabwe
By Farayi Mungazi
BBC Sport
Last updated on .From the section Football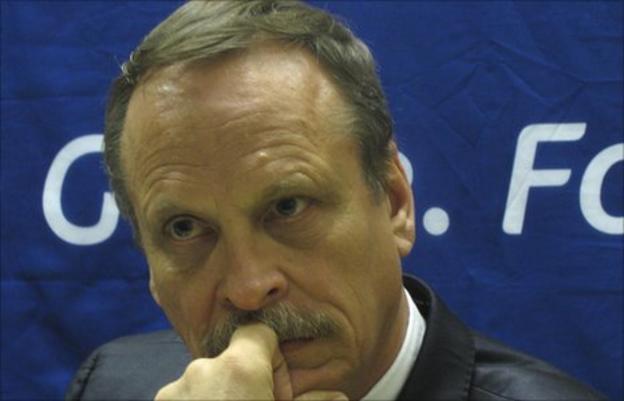 It is an undeniable fact that Zimbabwe's football image has been tainted by match-fixing allegations involving several players.
This is why the visit to Harare by Fifa's head of security Chris Eaton is a welcome development.
Even more welcome were the various statements he made that this is no time for token gestures but decisive action.
This issue has dragged on with all the urgency of a race between two snails.
And there are many who would like to see the whole thing kicked into the long grass.
That should not happen. Not now. Not ever.
There is a lot at stake.
As I see it, match-fixing is the biggest issue confronting African football, not least because players on the continent are paid the proverbial peanuts.
This makes them vulnerable to illegal bookmakers who come round with bags of cash.
As a Zimbabwean, it saddens me that my country's reputation has been sullied by a few rotten apples.
But I cannot hide my concern about the threat posed by match-fixing to the game loved by millions across the continent.
Those who hold in their hands the destiny and future of Zimbabwean football must clearly and unequivocally show that match-fixing will not be tolerated in any way, shape or form.
Individuals who throw away matches for money do not deserve to play the game or represent their nation in any capacity.
Yes, the careers of some players would have come to an abrupt halt but so be it.
A powerful message must be sent to would-be match-fixers.
There is nothing worse in sport than watching a contest whose result you cannot trust.
Although the Far East is the hotbed of illegal betting, my gut feeling is that Africa will continue to be on the radar of the match-fixers.
It is, therefore, my considered opinion that Fifa needs to re-evaluate its approach to Africa in order to rid the game of corruption.
How about setting up a continental match-fixing watchdog?
Such a body would investigate suspicious activities in African football in order to crack down on match fixing among players, coaches and referees.
Zimbabwe should sow the seeds of a coordinated plan of action to help tackle the problem.