Mali's Sidibe plays for Stoke reserves after year out
Last updated on .From the section Football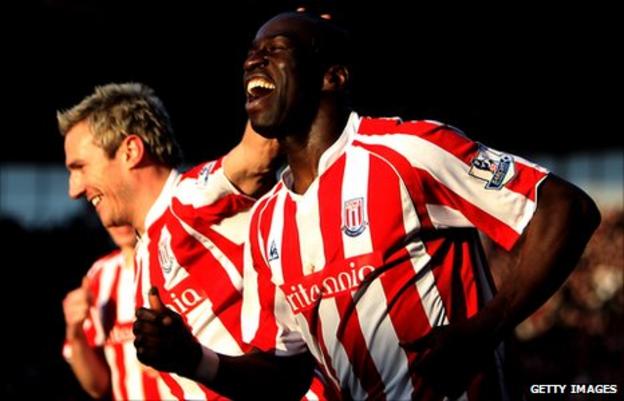 Mali striker Mamady Sidibe played for Stoke City reserves on Wednesday as he continued his recovery from injuries after over a year out.
He made an impressive showing in the 2-1 win over Nottingham Forest on Wednesday, playing for 63 minutes.
Sidibe teed up both goals, flicking on for Louis Moult before releasing Michael Tonge with a back-heel.
"We feel now is the right time to start playing and hopefully I will get fit and start playing again," Sidibe had told the BBC prior to the game.
It could be another month or more before he is ready for first-team action.
Stoke City manager Tony Pulis has shown great faith in the Malian star by including him in his 25-man squad for the Premier League this season.
"It will be fantastic to see him back playing again after everything he's been through," Pulis told a local newspaper.
Sidibe snapped his Achilles tendon in a match against Tottenham Hotspur in August last year and then suffered a similar injury in training just as he was preparing to return to first-team action in February.
Asked if he was targetting an international comeback with Mali, Sidibe said he needed to take his time.
"At the moment I have no plans to get back with Mali - they have some good young players coming up," he said.
"I don't think it's a good idea for me to play with my country now because Stoke have done very well for me to get me fit again.
"To leave the club and play for my country right after getting fit, I don't think that would be fair."
However, the striker did not rule out a return to the international game in the future.