Matt Bloomfield column

By Matt Bloomfield
Wycombe Wanderers midfielder
Last updated on .From the section Football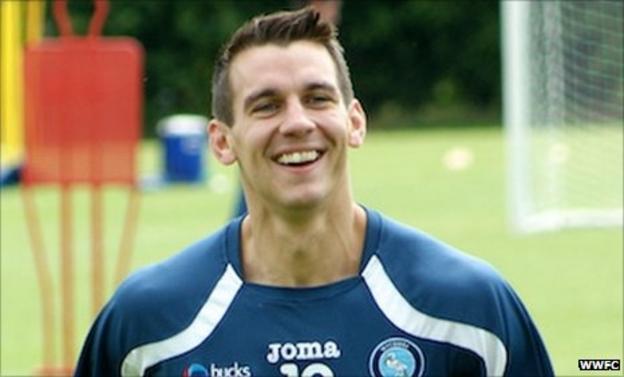 If we weren't sure what to expect of life back in League One, then we certainly do now.
The standard has definitely improved since we were in this division two years ago and although we have endured a tough month in September, we managed to secure a fantastic three points at home against Sheffield United on Saturday.
We know that the bar has risen and we have to maintain very high standards every week if we are to take anything from each game.
We are learning each week and it's a continual learning curve for everyone involved.
After losing five games on the bounce, I don't think many people were giving us much of a chance against Sheffield United.
It is hard when you are on such a run to keep believing that things will turn for you. Winning is a good habit to get in to, but losing is also a bad habit and it takes a lot of hard work to turn things around when you are on a bad run. It is more of a mental than physical thing.
I am in no doubt that the Blades will be challenging right at the top of the league all the way through to the end of the season.
They are a team who have got a good blend of youth and experience and in Stephen Quinn they have one of the best midfielders in the league.
He played on the left hand side but was drifting inside to collect the ball in pockets of space and it was extremely hard to mark him.
Hartlepool and Notts County have caught the eye as they keep pace with the early season leaders and I fully expect Leyton Orient to turn their form around after coming back so late against Huddersfield to snatch a point.
They only just missed out on the play-offs last season and have got proven goal scorers in Jamie Cureton and recent signing Kevin Lisbie.
Although it's not League One news, I think that it's great to see Owen Hargreaves back out on a football pitch.
I suffered a cruciate ligament injury myself a few years ago and I know how much hard work it takes to recover from bad injuries. Hargreaves has been through a lot in the last three years and it must have taken a lot of mental strength to come through the other side.
When he signed for Manchester City I was listening to a talk show on the radio and he got a lot of criticism for signing for Manchester United's rivals after they had supported him through his rehabilitation.
But if he has worked night and day to overcome these problems, then why wouldn't he sign for the best club possible?
I am sure the move was not money motivated as he has made a lot of money from the game. He obviously still has a burning desire to prove himself again at the highest level and he should be seen as an inspiration, not as a fickle footballer to criticise.