Nottingham Forest boss McClaren wants 'drastic changes'
Last updated on .From the section Football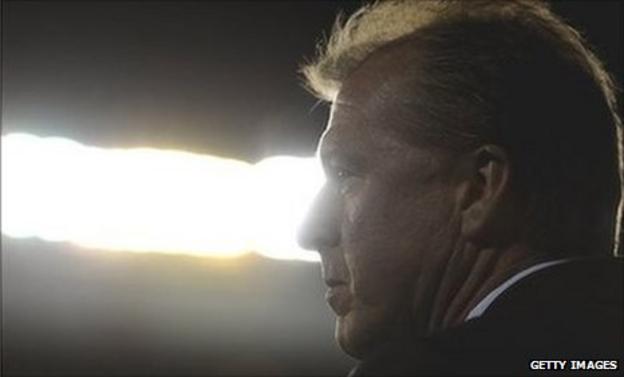 Nottingham Forest manager Steve McClaren says there needs to be "drastic changes" at the club.
McClaren told BBC Radio Nottingham: "Something drastic has to be done because we can't carry on like this.
"Everything will be questioned now and everything will be looked at. There is no excuses from anybody, that was a rubbish performance."
The Reds are now fifth from bottom in the table and only a point clear of the relegation zone.
McClaren sent his Forest players out early for the second half and then sat alone in the dug-out while his players warmed up by themselves.
"I said my piece at half-time but didn't have to say a lot and they have come out early," added the former England boss.
"There is a problem somewhere but I think the inquest will go on for the next few days in preparation for Sunday [against Birmingham].
"The performance was total rubbish on and off the ball.
"We let the whole club down, the supporters who travelled and everybody associated with Nottingham Forest."
Former Forest striker Stan Collymore, who scored 41 goals in 65 games for the Reds between 1993 and 1995 under Frank Clark, believes the club should look closer to home for a solution.
"Look at every manager since FC [Frank Clark]. No real understanding of what the club is, where to position it and embrace a rich past," Collymore said on Twitter.
"You build on those things, not let different managers with different philosophies gradually dilute the club.
"There are many former Forest players that would help the club, anytime, in a number of ways that never have been asked.
"[Martin] O'Neill, [Stuart] Pearce, Roy [Keane], Bryan [Roy] and hundreds of players who know winning.
"Some clubs are just right to promote from within the family. Forest is one of those clubs."
Dave Bassett, who managed Forest from 1997 to 1999 and led them into the Premier League, believes McClaren needs time to get things right.
"The only real criticism you might possibly say is that Steve McClaren has not been aware of the Championship for five years," he said.
"Being the England manager and being in Holland and Germany, how well he knows the Championship I don't know."